'Hallowed' Be The Name of The Lord – Sunday Thought For The Day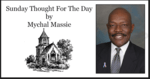 The past month or so I've been studying and meditating upon that which we call The Lord's Prayer.  It is not the first time I've been prompted by the Holy Spirit to delve into this profound pattern of prayer Jesus instructed us to follow.  During my study of the passage this time, I found myself repeatedly drawn to the word "Hallowed" and the petition "Hallowed be thy name."
Writing about this passage, Charles Ellicott, the Anglican Minister whose ecclesiastical giftedness remains recognized by biblical scholardom for nearly two centuries, wrote: "The first expression of thought in the pattern prayer is not the utterance of our wants and wishes, but that the Name of God—that which sums up all our thoughts of God—should be "hallowed," be to us and all men as a consecrated name, not lightly used in trivial speech, or rash assertion, or bitterness of debate, but the object of awe and love and adoration."
Which brings me to my embracement of this four-word petition.  As our love and reverence for our Father in Heaven deepens, His name becomes more sanctified to us.  It becomes as Joseph Benson said, "the highest veneration for God Himself."  I believe that it becomes the stirring in our heart, soul and spirit.  God's name transcends love as our reverence for Him grows.
This does not happen through acts of works that we labor to perform, so as to boast of same as evidence of our love.  It happens through the growing and burning desire to experience more of our Lord.  It happens through the unquenchable thirst to love and walk in fellowship with our God.  It's a sense of awe and humility in our hearts to reverence our God more.
That starts not just in our relationship with God; it starts in our view and growing awe of God and His word.  If we do not recognize the name of God as "Hallowed;" we do not hold God in the highest of respect.  Instead we treat Him with a perfunctory indifference.  We give lip service, but our hearts are far from Him.
READ:
Malachi 1:11 KJV
11 For from the rising of the sun even unto the going down of the same my name shall be great among the Gentiles; and in every place incense shall be offered unto my name, and a pure offering: for my name shall be great among the heathen, saith the Lord of hosts.
About the Author
Mychal S. Massie is an ordained minister who spent 13 years in full-time Christian Ministry. Today he serves as founder and Chairman of the Racial Policy Center (RPC), a think tank he officially founded in September 2015. RPC advocates for a colorblind society. He was founder and president of the non-profit "In His Name Ministries." He is the former National Chairman of a conservative Capitol Hill think tank; and a former member of the think tank National Center for Public Policy Research. Read entire bio here