Hatred, Bitterness and Envy: The Tools of A False 'god' – Sunday Thought For The Day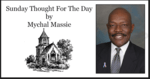 Three of the most socially inhibiting and emotionally limiting human characteristics are hatred, envy and bitterness.
Hatred is the irrational, all consuming combustible that if allowed to fester will spiritually, emotionally and psychologically destroy a person/people.  Envy spawns jealousy and jealousy results in illogical hatred; and bitterness is the combination of hatred and envy that so clouds a person's or people's mind that they become susceptible to a demonically jaundiced reality in which every heinous behavior is acceptable.  In short, there are no anti-social boundaries persons given over to these traits will not break.
The unseen fomenter of their behavioral breakdown is Satan.  His strength lies in spiritual blindness.  This is because: people so persuaded received not the love of the truth.  They prefer a system of error and delusion to the simple and pure gospel, by which they might have been saved.
Hatred, envy and bitterness are lies a person/people embrace that support their denial of their spiritual reality.  Hatred, envy and bitterness are their reality.  Their world view is based upon these three things.  It comprises their self-worth; it is their theology.  Their god is based upon these amoral heterodoxies.  Their worship, reasoning and life objectives are based upon noncompliance.
And because their hatred of truth and propriety cannot be explained rationally, it leaves only the irrational, which effectually makes them behave like dogs chasing their own tail, i.e., they live their lives going around in a circle never quite catching their tails and blaming others for the pain they experience when they do.
I personally believe these three behavioral flaws to be the greatest threat to every man's spiritual life, even more so than pride.  Albeit, pride can be and often is the key factor in said characteristics.
There's nothing that justifies these qualities.  People who call themselves Christians and yet spew visceral hatred toward their fellow man aren't led by the Holy Spirit; they're led by demons from hell.  Their homes, family relationships and social involvement proves it.  These orthodoxies are not normal.  This is why people controlled by these emotions go through life angry and isolated, even though they and their households are the last ones to realize the origins of their malcontent.
As Christians, we must be alert to any shadow of these traits coming over us.  Hatred, envy and bitterness are not of God.  They are Satan's most useful stumbling blocks for people.  As a minister, I have heard many reasons offered in defense of hatred and even more offered as reasons for bitterness.  Envy is seldom openly acknowledged; it's the more silent of the spiritual killers.
We find reasons and excuses for hatred, bitterness and even envy with little effort.  But, it is important to remember that while dying nailed to the cross, after having been tortuously treated and beaten, Messiah prayed: "Father, forgive them; for they know not what they do."
Consider what hatred, envy and bitterness has reduced Arabs the world over to become.  The terrorist villains who attacked Israel are only marginally human.
Consider what hatred, bitterness and envy has reduced socialist politicians into.  The women of these groups are totally consumed by hatred.  Universities/colleges and public school classrooms have been reduced to indoctrination centers spawning hatred and bitterness against everything that made America great.  Envy has become the air various population groups are compelled to inhale.  But, to what end?  How are people helped by these demonic traits?  Obviously, they aren't.
We cannot say that we love God and hate our fellow man and those who claim otherwise, are spreading a blasphemous heresy as a counterfeit currency to create a culture of chaos and division, to turn our behavior away from God.  It's our calling as born again Christians to guard our hearts and minds against same; and to share Messiah with others, teaching them to do likewise.
READ:
1 John 3:10-19 KJV
10 In this the children of God are manifest, and the children of the devil: whosoever doeth not righteousness is not of God, neither he that loveth not his brother.
11 For this is the message that ye heard from the beginning, that we should love one another.
12 Not as Cain, who was of that wicked one, and slew his brother. And wherefore slew he him? Because his own works were evil, and his brother's righteous.
13 Marvel not, my brethren, if the world hate you.
14 We know that we have passed from death unto life, because we love the brethren. He that loveth not his brother abideth in death.
15 Whosoever hateth his brother is a murderer: and ye know that no murderer hath eternal life abiding in him.
16 Hereby perceive we the love of God, because he laid down his life for us: and we ought to lay down our lives for the brethren.
17 But whoso hath this world's good, and seeth his brother have need, and shutteth up his bowels of compassion from him, how dwelleth the love of God in him?
18 My little children, let us not love in word, neither in tongue; but in deed and in truth.
19 And hereby we know that we are of the truth, and shall assure our hearts before him.
About the Author
Mychal S. Massie is an ordained minister who spent 13 years in full-time Christian Ministry. Today he serves as founder and Chairman of the Racial Policy Center (RPC), a think tank he officially founded in September 2015. RPC advocates for a colorblind society. He was founder and president of the non-profit "In His Name Ministries." He is the former National Chairman of a conservative Capitol Hill think tank; and a former member of the think tank National Center for Public Policy Research. Read entire bio here