Have You Answered Your Invitation? – Sunday Thought For The Day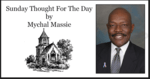 Suppose you were struggling to make a living and your personal debt had increased far beyond anything you could ever hope to pay off? Additionally your personal debt is literally multiplying with every passing day.
Then you receive an invitation from a person you have heard of but never met. The gentleman's invitation is very simple, it says: "You've never met me but, enclosed is my contact information; call me anytime day or night no matter the hour, I will personally take care of all your debt."
The question is: "Would you ignore this invitation if same were to happen to you?"
That's the question; the answer is: every day, people with debt they can never pay off themselves, receive that very invitation and they ignore it or refuse it for varying reasons. You may have received the invitation yourself, even today.
The debt that we as individuals can never pay off ourselves is our sin debt. The man you have heard of but never met is Christ Jesus. We've heard of Him, but until we believe that He died upon the cross as the only sacrifice, i.e., payment acceptable to God to satisfy our sin debt and accept His invitation – we are personally responsible for a debt we can never reconcile.
Many people have accepted His generous invitation, to have our sin debt paid in full, so we can spend all of eternity with Him in heaven when we die. Not to mention the freedom we "can" experience from our sin burdened lives once we have accepted Him as Savior.
Christ's invitation to receive His gift of salvation for the forgiveness of our sins is available to us only while we are alive. It can only be received by our personally accepting His invitation. It cannot be done through others.
READ: Romans 10:8-13 (KJV)
8 But what saith it? The word is nigh thee, even in thy mouth, and in thy heart: that is, the word of faith, which we preach;
9 That if thou shalt confess with thy mouth the Lord Jesus, and shalt believe in thine heart that God hath raised him from the dead, thou shalt be saved.
10 For with the heart man believeth unto righteousness; and with the mouth confession is made unto salvation.
11 For the scripture saith, Whosoever believeth on him shall not be ashamed.
12 For there is no difference between the Jew and the Greek: for the same Lord over all is rich unto all that call upon him.
13 For whosoever shall call upon the name of the Lord shall be saved.
About the Author
Mychal S. Massie is an ordained minister who spent 13 years in full-time Christian Ministry. Today he serves as founder and Chairman of the Racial Policy Center (RPC), a think tank he officially founded in September 2015. RPC advocates for a colorblind society. He was founder and president of the non-profit "In His Name Ministries." He is the former National Chairman of a conservative Capitol Hill think tank; and a former member of the think tank National Center for Public Policy Research. Read entire bio here