How Great Is Our God: A True Story – Sunday Thought For The Day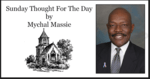 "How great is our God" is a phrase I use often, but not as a question.  For me it is a proclamation of affirmation and Saturday morning as I sat to write this Sunday Thought, my heart was filled with awe and literally cried out: "How great is our God."  Let me share what happened.
On August 20, 2019, I made a promise to a man whose name I did not know: a man I have never met; a man I have only seen one time in my life; a man whose sad resolve caused my eyes to overflow with tears.  I had just turned on the television that day and was channel surfing as it's commonly called, when I [seemingly] happened upon a documentary about a movie that was produced by an individual for whom I have the upmost disrespect.
Normally I would never have paused, but that day I did.  As I watched the real life characters address their lives of crime, drugs, prison and murder – one gentleman spoke with a voice and confession of wrongdoing that seized me by the heart.  But, it was when he said: "I know I'm going to hell; there's no hope for me after the things that I've done …"  He was speaking about the injustice that the person who had been falsely accused by law enforcement, had received.  His honest expression broke my heart.  I vividly remember immediately saying out loud to the image on the screen: No!!  You can be saved!
With tears in my eyes and obviously completely unbeknownst to him, I promised that man being interviewed that I was going to pray for him to be saved.  A moment later I was head in hands praying to God for that man to be saved.  A moment after that, I was adding his name to my prayer list.  As I talked to the Lord in those moments, I was at peace knowing I would probably never meet the man.  The fact is, I've never seen him or the documentary again.
I've kept my promise to the stranger who had no way of knowing his broken spirit had deeply touch another person's heart.
Ahhh…but God…
On August 20, 2023, I saw a biblical tract lying on the floor in the store I was shopping and picked it up.  The title was: Can I Be Forgiven?  I opened it to see if it was truth-based, in which case I planned to give it with someone at some point.  The tract told of an out-of-the-way cemetery with an unmarked tombstone engraved with one word: "Forgiven."  The rest of the tract was about how to be saved.
In that moment the Lord laid it upon my heart to use the tract to write about the man above I had pledged to pray for.  But, it wasn't until I sat down to write this Sunday Thought, that I realized the day I had picked up the bible tract was August 20th.  It was at was this point that I also recalled I had prayed for the gentleman just a day before finding the bible tract.  In that prayer, I prayed about not knowing if the man was saved or even alive, but still praying for him and believing for him.  I had prayed that I would like to know if the man was saved, but I was committed to praying for his salvation regardless.  And then I found the tract.  "How great is our God."
Several "what ifs" come into play here.  What if I hadn't followed the Spirit's leading to stop at the place I did?  What if I hadn't picked up the bible tract?  What if I hadn't followed the Spirit's prompting to pray for the gentleman?  What if I had taken the hard line that he was a bad person and deserved whatever he got?  What if I had decided he wasn't worth my time to pray?  What if, what if, what if…
I never heard the gentleman's name, but to this very moment I can still see his face, hear his voice and my heart breaks for him as much today as when I first saw him.
I welcome you to pray for this man as teh Spirit of God leads you.
I also encourage Christians reading this to heed the prompting of the Lord.  I encourage those reading this who are not saved to answer the question: What are you waiting for?  For those who aren't sure – you need too be sure!!
For those who may look upon this as coincidence, I remind you there are no coincidences with God.  Because I can proclaim the affirmation of "How great is our God"; I can also say to you, taste and see that He is good.
READ:
Psalm 34:1-9 KJV
1 I will bless the Lord at all times: his praise shall continually be in my mouth.
2 My soul shall make her boast in the Lord: the humble shall hear thereof, and be glad.
3 O magnify the Lord with me, and let us exalt his name together.
4 I sought the Lord, and he heard me, and delivered me from all my fears.
5 They looked unto him, and were lightened: and their faces were not ashamed.
6 This poor man cried, and the Lord heard him, and saved him out of all his troubles.
7 The angel of the Lord encampeth round about them that fear him, and delivereth them.
8 O taste and see that the Lord is good: blessed is the man that trusteth in him.
9 O fear the Lord, ye his saints: for there is no want to them that fear him.
About the Author
Mychal S. Massie is an ordained minister who spent 13 years in full-time Christian Ministry. Today he serves as founder and Chairman of the Racial Policy Center (RPC), a think tank he officially founded in September 2015. RPC advocates for a colorblind society. He was founder and president of the non-profit "In His Name Ministries." He is the former National Chairman of a conservative Capitol Hill think tank; and a former member of the think tank National Center for Public Policy Research. Read entire bio here