How Many Opportunities Did We Ignore Today? – Sunday Thought For The Day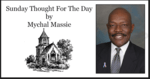 Not long ago as I was exiting a local grocery store, I observed a young man perhaps in his mid twenty's, asking for people for spare change.  I immediately knew what I was going to do as I passed by without acknowledging what was taking place.  When I reached my vehicle, I said a quick prayer asking God to direct my plans.  Opening my bible, which I never leave home without, I took out a bible tract and placed money in it.
I then drove back to where the young man was, lowered the passenger side window and handed the bible tract to him.  He made the fatal mistake of thinking street slang and ghetto-eeze was an acceptable form of communication with me.  I very quickly extinguished the flames of that misconception.  He next attempted to flatter me and I told him not to blow smoke up my skirt, which was a common colloquialism when I was growing up and had nothing to with sinful lifestyles celebrated today.  I was firm with the young man, but I never intimated that I was looking down on him.  Instead, I spoke to him as a caring father would his son.  The young man corrected his demeanor realizing that I wasn't asking him to sing for his dinner so to speak.
I handed him the tract and firmly but tenderly told him to read it.  He thanked me; I kindly acknowledged him and drove away.  As I slowly pulled away with prayer on my heart and lips, looking in my rearview mirror, I saw the young man was reading the tract.  Even more of a blessing, I saw the money shared with him extending out of the bible tract.  He had started reading the tract before removing the money.  I thanked God as I headed home.
Last weekend, my wife and I went to an indoor garage sale held at a nearby agricultural hall.  Immediately upon entering the venue, we turned to our left and walked to the first tables.  We exchanged hellos with the gentleman operating those tables.  I asked how he was doing and he replied it was a good day because he was still alive.  We engaged in conversation a few more moments before I shared that just because he awakened that morning, didn't make it a good day unless he knew Christ as his Savior.  My wife had moved a few steps away and I knew she was quietly praying.
It was clear the gentleman wasn't saved.  For the next 10 minutes or so he and I spoke about his need for salvation.  He said he didn't believe the bible, because "it was written by a men."  I said, written by men guided by God the Holy Spirit and asked who or what he expected to have written the Word of God.  I responded to his every argument with either bible verse or biblical reasoning.  He told me he was saved because he believed he was.  I reminded him of Jeremiah 17:9. (KJV)  Finally, I dropped the biblical hammer.  I assured him without Christ he wasn't saved, but he could be if he truly desired.  I said, up to that moment he had made the worst possible decision in not turning to Christ for salvation.  Repeating what he earlier had acknowledged as true in our conversation; I said, it could very well be that God had us there that day, at that moment, exclusively for him.  Again he said, "You're right."  We then bid him adieu.
Regarding the possibility of God having us there just for him – my wife and I walked the entire venue; we bought nothing, picked nothing up to look at, and spoke virtually to no one else apart from friendly exchanges of hello.
Leaving, I started to exit the same doors we had entered, but my wife said, the proper exit was further over from those doors.  Turning my focus in that direction, I noticed a men's room sign as well.  Before exiting I took advantage of the men's room and as my wife and I approached the exit doors I observed the man I had witnessed to walking in our direction.  He gently squeezed my arm and wished me the best.  I replied in kind.
I don't share these two interactions to say look at me.  I share them to say consider what we miss when we ignore those around us.  Consider the opportunities we miss when we decide who is worth our time to share Christ.  I've observed many people who claim to be Christians and many who in fact are Christians ignore those like the young man I gave the bible tract and that gentleman.
That young man may have been an angel that I entertained unawares.  The elderly gentleman at the indoor garage sale may have truly turned to Christ later that day or the next.  He may have passed away.  The bottomline is I don't know.  But, I know the Holy Spirit draws people to Christ in a myriad of ways that the enemy of our souls would have us ignore.
READ:
Hebrews 13:1-6 KJV
1 Let brotherly love continue.
2 Be not forgetful to entertain strangers: for thereby some have entertained angels unawares.
3 Remember them that are in bonds, as bound with them; and them which suffer adversity, as being yourselves also in the body.
4 Marriage is honourable in all, and the bed undefiled: but whoremongers and adulterers God will judge.
5 Let your conversation be without covetousness; and be content with such things as ye have: for he hath said, I will never leave thee, nor forsake thee.
6 So that we may boldly say, The Lord is my helper, and I will not fear what man shall do unto me.
About the Author
Mychal S. Massie is an ordained minister who spent 13 years in full-time Christian Ministry. Today he serves as founder and Chairman of the Racial Policy Center (RPC), a think tank he officially founded in September 2015. RPC advocates for a colorblind society. He was founder and president of the non-profit "In His Name Ministries." He is the former National Chairman of a conservative Capitol Hill think tank; and a former member of the think tank National Center for Public Policy Research. Read entire bio here