How To Pray – Sunday Thought For Today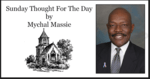 I've frequently heard people say that they do not know how to pray. If we are Spirit-filled Christians praying is sharing our most intimate joys, sorrows, concerns, needs, and desires with He, alone that can be trusted to never betray same.
In the 17th century François Fénelon wrote: "Tell God all that is in your heart as one unloads one's heart, its pleasures and pains to a dear friend. Tell Him your troubles that He may comfort you; tell Him your joys that He may sober them; tell Him your longings that He may purify them.
Talk to Him of your temptations that He may shield you from them. Show Him the wounds of the heart that He may heal them. If you thus pour out all your weaknesses, needs, troubles, there will be no lack of what to say."
READ: Psalm 5 (KJV)
1 Give ear to my words, O Lord, consider my meditation.
2 Hearken unto the voice of my cry, my King, and my God: for unto thee will I pray.
3 My voice shalt thou hear in the morning, O Lord; in the morning will I direct my prayer unto thee, and will look up.
4 For thou art not a God that hath pleasure in wickedness: neither shall evil dwell with thee.
5 The foolish shall not stand in thy sight: thou hatest all workers of iniquity.
6 Thou shalt destroy them that speak leasing: the Lord will abhor the bloody and deceitful man.
7 But as for me, I will come into thy house in the multitude of thy mercy: and in thy fear will I worship toward thy holy temple.
8 Lead me, O Lord, in thy righteousness because of mine enemies; make thy way straight before my face.
9 For there is no faithfulness in their mouth; their inward part is very wickedness; their throat is an open sepulchre; they flatter with their tongue.
10 Destroy thou them, O God; let them fall by their own counsels; cast them out in the multitude of their transgressions; for they have rebelled against thee.
11 But let all those that put their trust in thee rejoice: let them ever shout for joy, because thou defendest them: let them also that love thy name be joyful in thee.
12 For thou, Lord, wilt bless the righteous; with favour wilt thou compass him as with a shield.
About the Author
Mychal S. Massie is an ordained minister who spent 13 years in full-time Christian Ministry. Today he serves as founder and Chairman of the Racial Policy Center (RPC), a think tank he officially founded in September 2015. RPC advocates for a colorblind society. He was founder and president of the non-profit "In His Name Ministries." He is the former National Chairman of a conservative Capitol Hill think tank; and a former member of the think tank National Center for Public Policy Research. Read entire bio here