How To Start New Year – Sunday Thought For The Day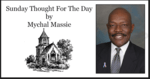 If we are a true born-again Christian, living a victorious Christian life, we know the moment, place, and circumstances when we received Christ as Savior.  We share testimonies of what the Lord is doing in our life.  Living in obedience to the Word of God is the goal of our relationship with our Savior.
But, the perfunctory churchgoer is one who attends a church as long as they're not challenged with the truth of God's Word.  They are the ones who reject instruction that teaches about sin and the need to live holy and righteous before God.  They have hardened their hearts to the truth of God's Word and the instruction of those God has called to preach and teach.  They put on a show of pretending to be what they are not.  Their lives and their homes are in a spiritual shambles, but the hardness of their hearts blinds them to the truth of their stagnation.
There is a reason Jesus spoke and taught so much on the subject of sin.  It's because God doesn't want one person to perish.  But every person who has hardened their heart and/or is interested only in a feel-good make-believe message where sin is not preached is in jeopardy of awaking on the wrong side of heaven.
As we begin the New Year 2022, which of the above best describes you?
READ:
2 Peter 1:8-13 KJV
8 For if these things be in you, and abound, they make you that ye shall neither be barren nor unfruitful in the knowledge of our Lord Jesus Christ.
9 But he that lacketh these things is blind, and cannot see afar off, and hath forgotten that he was purged from his old sins.
10 Wherefore the rather, brethren, give diligence to make your calling and election sure: for if ye do these things, ye shall never fall:
11 For so an entrance shall be ministered unto you abundantly into the everlasting kingdom of our Lord and Saviour Jesus Christ.
12 Wherefore I will not be negligent to put you always in remembrance of these things, though ye know them, and be established in the present truth.
13 Yea, I think it meet, as long as I am in this tabernacle, to stir you up by putting you in remembrance;
About the Author
Mychal S. Massie is an ordained minister who spent 13 years in full-time Christian Ministry. Today he serves as founder and Chairman of the Racial Policy Center (RPC), a think tank he officially founded in September 2015. RPC advocates for a colorblind society. He was founder and president of the non-profit "In His Name Ministries." He is the former National Chairman of a conservative Capitol Hill think tank; and a former member of the think tank National Center for Public Policy Research. Read entire bio here