How To Treat Those Who Practice Wickedness – Sunday Thought For The Day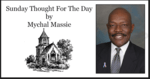 I have a saying: "Wicked men can always be counted upon to do what wicked men do; thus the reason for the assignation – wicked men." Unfortunately, many if not most people who identify themselves as Christians ignore this because they're biblically illiterate.
Born-again believers are not to look upon evil men and lament that God hasn't punished them yet for us to see. Ecclesiastes 8:11 says: "Because sentence against an evil work is not executed speedily, therefore the heart of the sons of men is fully set in them to do evil." (KJV)
It's important to keep in mind that the Bible says in 2 Peter 3:9: "The Lord is not slack concerning his promise, as some men count slackness; but is longsuffering to us-ward, not willing that any should perish, but that all should come to repentance." (KJV)
As Christians we're to have the heart and mind of Christ, i.e., we should pray for the lost who do evil seemingly with impunity, because a certain terrible and fearful end awaits them if they don't repent. I genuinely pity and sorrow for those who knowingly do evil, because they're condemning themselves to an everlasting fate the likes of which they cannot imagine. Their consciences have become devoid of guilt. The more they seemingly get away with, the bolder they become in their evil works. The longer they go without punishment – the more they say in their hearts there is no God.
They fail to realize that the Just and Righteous God is extending grace and mercy unto them, allowing them time to confess their sin, repent and accept Christ as their Savior.
We arn't God. We don't know which of the people who revel in their wickedness will turn, accept Jesus Christ and be used of Him to reach others who are unsaved. That's why we must love them enough to pray for them, and petition the God of Heaven to touch their hearts and turn them unto Christ for salvation.
Yes, those who recklessly practice evil and embrace wickedness are tragic, but it's important for you and I to always remember that we were just like them before we accepted the Lord. We must remember that to God, sin is sin. Committing one sin is not worse than committing another, with the exception of blaspheming the Holy Spirit.
I'm thankful for two men in particular who prayed for me daily for many years before I was saved. One of the men watched me sink further and further into sin before I came to the Lord. Giving up on me would have been the easy thing to do if their hearts weren't committed to the Lord. Wickedness wasn't looked upon by me as sin. It was my will even when I suffered from said behavior. I couldn't understand that until I came to Christ for salvation.
Don't wish evil upon those who practice evil. Pray for them. Thank God that He is giving them time to repent. Ask God to touch their hearts and turn them to Christ. That's not to say we're to abide their wickedness; it is, however, to say that we should ask God to keep us from succumbing to the temptation of their ways.
READ:Proverbs 4:14-27 (KJV)
14 Enter not into the path of the wicked, and go not in the way of evil men.
15 Avoid it, pass not by it, turn from it, and pass away.
16 For they sleep not, except they have done mischief; and their sleep is taken away, unless they cause some to fall.
17 For they eat the bread of wickedness, and drink the wine of violence.
18 But the path of the just is as the shining light, that shineth more and more unto the perfect day.
19 The way of the wicked is as darkness: they know not at what they stumble.
20 My son, attend to my words; incline thine ear unto my sayings.
21 Let them not depart from thine eyes; keep them in the midst of thine heart.
22 For they are life unto those that find them, and health to all their flesh.
23 Keep thy heart with all diligence; for out of it are the issues of life.
24 Put away from thee a froward mouth, and perverse lips put far from thee.
25 Let thine eyes look right on, and let thine eyelids look straight before thee.
26 Ponder the path of thy feet, and let all thy ways be established.
27 Turn not to the right hand nor to the left: remove thy foot from evil.
About the Author
Mychal S. Massie is an ordained minister who spent 13 years in full-time Christian Ministry. Today he serves as founder and Chairman of the Racial Policy Center (RPC), a think tank he officially founded in September 2015. RPC advocates for a colorblind society. He was founder and president of the non-profit "In His Name Ministries." He is the former National Chairman of a conservative Capitol Hill think tank; and a former member of the think tank National Center for Public Policy Research. Read entire bio here