I Am Not Afraid – Sunday Thought For The Day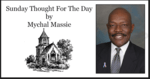 One of the most important things that people should realize during this time of panic and fear amid national emergency on a global scale, is how quickly our lives can change.
The sudden unexpected outbreak of Covid19 flu virus has changed plans, and given rise to panic and fear. The so-called news and information systems regurgitate endless jeremiads and projections of infection and death, introduced by maudlin music consistent with that of a death dirge. Even many so-called Christian churches practice the same thing, under the guise of biblical instruction.
That my friends, is life without Jesus Christ at its' most sustainable, i.e., powerless man, desperately searching for answers and comfort in a world fueled by crisis and the plague of uncertainty. And yet, despite that very fact, people still refuse to turn to Christ.
I remind those who are truly born again children of God through salvation in Jesus Christ, that worry and panic should be the very least of our emotions. I remind you, that if we are a true Christian we have nothing, absolutely nothing, to be afraid about. It just depends upon where we choose to search for our comfort.
The Word of God is filled with factual accounts of God comforting and protecting His children, but it's up to us to open our Bibles to read and receive this reassurance. I personally find it counter-intuitive to expect to find comfort and reassurance from those who are spreading around the clock reports of death, infection, and accusations.
Do yourself a favor. Turn off your televisions and the talk radio hosts, and open your Bible. Spend that time with the Lord, asking Him to lift your spirits if you are feeling down and fearful. Turn to God if uncertainty is causing you to worry.
These are God given moments of opportunity to encourage, and share of the grace and mercy available to all who believe upon Christ. These are God given moments for true believers to ask God to provide ways they can share the comfort of His assurance with others.
But first, I challenge believers to share of God's comfort with themselves. I encourage true followers of Christ to honestly believe and understand that your God is not sleeping nor has He fallen off His throne. He has not surrendered His authority and/or control. He has not forgotten His promises to those who repent and believe that Christ died for their sin.
Should the Lord tarry, Easter, the celebration of the death and resurrection of Christ our Lord, is only days away. If we as believers cannot embrace the assuredness of our security in Christ and be comforted that He is our provider and protecter now, how can we share the resurrection message with others on Easter, which a mere three weeks from now?
If my message is no more comforting than that of the world, why would anyone want to hear it? I am a born again child of God. I do not place my hope nor my trust in the security that the world offers. I place my trust and assuredness in the very same God who led His people out of Egypt and across the Jordan River when all earthly appearances said escape was impossible. However, I can only do that because I believe my God factually led those people to safety in the exact way the Bible says.
READ:
Exodus 14:13-14; 15:1-2,11-13 (KJV)
13 And Moses said unto the people, Fear ye not, stand still, and see the salvation of the Lord, which he will shew to you to day: for the Egyptians whom ye have seen to day, ye shall see them again no more for ever.
14 The Lord shall fight for you, and ye shall hold your peace.
15:1 Then sang Moses and the children of Israel this song unto the Lord, and spake, saying, I will sing unto the Lord, for he hath triumphed gloriously: the horse and his rider hath he thrown into the sea.
2 The Lord is my strength and song, and he is become my salvation: he is my God, and I will prepare him an habitation; my father's God, and I will exalt him.
11 Who is like unto thee, O Lord, among the gods? who is like thee, glorious in holiness, fearful in praises, doing wonders?
12 Thou stretchedst out thy right hand, the earth swallowed them.
13 Thou in thy mercy hast led forth the people which thou hast redeemed: thou hast guided them in thy strength unto thy holy habitation.
About the Author
Mychal S. Massie is an ordained minister who spent 13 years in full-time Christian Ministry. Today he serves as founder and Chairman of the Racial Policy Center (RPC), a think tank he officially founded in September 2015. RPC advocates for a colorblind society. He was founder and president of the non-profit "In His Name Ministries." He is the former National Chairman of a conservative Capitol Hill think tank; and a former member of the think tank National Center for Public Policy Research. Read entire bio here