I Have A Question For You – Sunday Thought For Today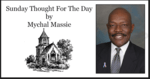 I have a question for you. If you say you're a Christian would your family, friends, acquaintances, and co-workers say they agree because of the witness of Christ in your life or because you are simply a nice, moral person?
If we say we're a born again Christian, what about us is different than before we accepted Christ as our Savior? What Christ like attributes and behavior do we exhibit that testifies to our having accepted Christ as our Savior? What about us would make the people in our life who aren't Christians want to be one because of us? What about us makes someone who is a Christian desire to be better?
If you are a born again Christian, how many in your sphere of association have you shared Christ with? How many have you truly witnessed to?
If you say you are a Christian – what is your testimony? How did you come to salvation in Jesus Christ? When did you realize you were a sinner and that unless you accepted Christ as your Savior – you were assured an eternity of suffering in hell that is beyond our ability to comprehend while alive?
A true Christian cannot help but speak and testify of Christ. A true Christian walks/lives in obedience to Christ to the best of their ability in the power of the Holy Spirit in them. A true Christian will share of answered prayer. They will share of victories in Christ. They will also share of the times they've stumbled and God forgave them.
If we're true Christians not everyone around us may know, but they will recognize there is something difference about us. And when they find out that it's because we are Christians, they won't be surprised.
If we say we are Christians the Holy Spirit bares witness outwardly of Christ in us.
A true Christian isn't perfect; we are forgiven. Being a true Christian doesn't mean we won't stumble and/or drop the ball; God knows I have done both to my shame. But being a true Christian means we confess our sins and repent of the sin in our lives, asking God to deliver us from whatever sin it is that so easily besets us. Being a true Christian means we want to be obedient to God more than anything else. Because if we are obedient to God, everything else will be in order.
READ:
2 Corinthians 5:17-21 KJV
17 Therefore if any man be in Christ, he is a new creature: old things are passed away; behold, all things are become new.
18 And all things are of God, who hath reconciled us to himself by Jesus Christ, and hath given to us the ministry of reconciliation;
19 To wit, that God was in Christ, reconciling the world unto himself, not imputing their trespasses unto them; and hath committed unto us the word of reconciliation.
20 Now then we are ambassadors for Christ, as though God did beseech you by us: we pray you in Christ's stead, be ye reconciled to God.
21 For he hath made him to be sin for us, who knew no sin; that we might be made the righteousness of God in him.
About the Author
Mychal S. Massie is an ordained minister who spent 13 years in full-time Christian Ministry. Today he serves as founder and Chairman of the Racial Policy Center (RPC), a think tank he officially founded in September 2015. RPC advocates for a colorblind society. He was founder and president of the non-profit "In His Name Ministries." He is the former National Chairman of a conservative Capitol Hill think tank; and a former member of the think tank National Center for Public Policy Research. Read entire bio here