I Want To Be Closer – Sunday Thought For The Day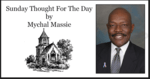 While there is much that I find to disagree with the 17th century theologian François Fénelon, His following quote I can in no way dispute.  In speaking about how to pray he wrote: "Tell God all that is in your heart, as one unloads one's heart, it's pleasures, and it's pains, to a dear friend. Tell him your troubles, that he may comfort you; tell him your joys, that he may sober them; tell him your longings, that he may purify them; tell him your dislikes, that he may help you conquer them; talk to him of your temptations, that he may shield you from them; show him the wounds of your heart, that he may heal them; lay bare your indifference to good, your depraved tastes for evil, your instability. Tell him how self-love makes you unjust to others, how vanity tempts you to be insincere, how pride disguises you to yourself and others. If you thus pour out your weaknesses, needs, troubles, there will be no lack of what to say. You will never exhaust the subject. It is continually being renewed. People who have no secrets from each other never want for subject of conversation. They do not weigh their words, for there is nothing to be held back, neither do they seek for something to say. They talk out of the abundance of their heart, without consideration they say just what they think. Blessed are they who attain to such familiar, unreserved intercourse with God."
I share this because when I talk with my God, and my Savior Jesus Christ, whether it be prayer petitions or just quiet conversation, I want it to be more intimate as if I were sitting face to face with Him enveloped in His love.
Yes, I know that He is always with me, but that's not what I am referencing.  I am speaking about the desire to have a deeper more personal relationship with my Lord.  When I pray and/or involve my Lord in whatever I am doing, I want to sense His presence as if He is standing right beside me.  I want there to be no part of my life that I keep or attempt to conceal from Him.  In short, I want more of my Lord; I want to be closer to my God.
Lord my God, I pray a closer walk with you would be the desire of all who claim the name of Jesus Christ as Savior and Lord.  In Jesus' name.  Amen.
READ:
Philippians 3:7-14 KJV
7 But what things were gain to me, those I counted loss for Christ.
8 Yea doubtless, and I count all things but loss for the excellency of the knowledge of Christ Jesus my Lord: for whom I have suffered the loss of all things, and do count them but dung, that I may win Christ,
9 And be found in him, not having mine own righteousness, which is of the law, but that which is through the faith of Christ, the righteousness which is of God by faith:
10 That I may know him, and the power of his resurrection, and the fellowship of his sufferings, being made conformable unto his death;
11 If by any means I might attain unto the resurrection of the dead.
12 Not as though I had already attained, either were already perfect: but I follow after, if that I may apprehend that for which also I am apprehended of Christ Jesus.
13 Brethren, I count not myself to have apprehended: but this one thing I do, forgetting those things which are behind, and reaching forth unto those things which are before,
14 I press toward the mark for the prize of the high calling of God in Christ Jesus.
About the Author
Mychal S. Massie is an ordained minister who spent 13 years in full-time Christian Ministry. Today he serves as founder and Chairman of the Racial Policy Center (RPC), a think tank he officially founded in September 2015. RPC advocates for a colorblind society. He was founder and president of the non-profit "In His Name Ministries." He is the former National Chairman of a conservative Capitol Hill think tank; and a former member of the think tank National Center for Public Policy Research. Read entire bio here