If You Met Jesus and Then Met Satan – Sunday Thought For The Day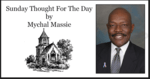 Suppose you met Jesus and then met Satan a short time later.  Here are a couple questions to consider.
Who would you feel more comfortable around?
Which one would you want to be like?
Would you recognize them one from the other?
If you met Jesus and did not know it was Him, would you feel comfortable being in His presence?  Would you like listening to Him talk and/or witnessing Him perform a miracle(s).  Would you like being about to tell people you were there when He did such and such?  Would you be enamored with the merchandise available, i.e., books, crucifixes, etc.?  Would you become a fan or a follower?
Conversely, if you met Satan and he showed you all of the glitz and paparazzi, the high life, the every day is a party life, the you can have it all life and not have to change anything you're now doing lifestyle?  Would you be more drawn to the idea of being popular and liked or hated, because of your Godliness?  Would you consider Jesus to ultimately be boring, no fun, and focused to much on the do's and don'ts that you have no desire to turn away from?
Or, would the seeming adventure, excitement of the stylishness exuberance, the popularity and the allure of being one of the kool enlightened people be more you?  Would you enjoy the moment witnessing what Jesus was doing and speaking, but not finding it a relationship you're interested in for the rest of your life?
For many this is exactly the situation.  They don't mind being around Jesus once in a while, which is why perfunctory church attendance once a week (unless there's something else you want to do) accompanied with a bible app on their digital tablet and/or a crucifix about the neck or on a tennis bracelet is all of Jesus and His lifestyle that they want.  A couple hours per week in a church or Zoom service is all that's tolerable in their lifestyle.
Perfunctory behavior without commitment is good enough.  In their minds it gives the best of two worlds.  It settles the argument over church attendance and it allows them live for self, Satan and the world the rest of the week.
But, the aforementioned is only relevant if a person is able to recognize Christ and Satan apart, of which not being able to do so is the worst scenario of all.  Being blind to the reality of the need for Godly discipline and biblical obedience are not compatible for a true Christian.  Being unable distinguish between the voice and character Christ and Satan is tragically where many find themselves today.  Even worse than that is reaching the point of not knowing it.
The question we must ask ourselves is how much of what has been said, applies to either directly or indirectly to us and what are we willing/do we desire to change and come into oneness with Christ Jesus?
READ:
Hebrews 3:7-19 KJV
7 Wherefore (as the Holy Ghost saith, To day if ye will hear his voice,
8 Harden not your hearts, as in the provocation, in the day of temptation in the wilderness:
9 When your fathers tempted me, proved me, and saw my works forty years.
10 Wherefore I was grieved with that generation, and said, They do alway err in their heart; and they have not known my ways.
11 So I sware in my wrath, They shall not enter into my rest.)
12 Take heed, brethren, lest there be in any of you an evil heart of unbelief, in departing from the living God.
13 But exhort one another daily, while it is called To day; lest any of you be hardened through the deceitfulness of sin.
14 For we are made partakers of Christ, if we hold the beginning of our confidence stedfast unto the end;
15 While it is said, To day if ye will hear his voice, harden not your hearts, as in the provocation.
16 For some, when they had heard, did provoke: howbeit not all that came out of Egypt by Moses.
17 But with whom was he grieved forty years? was it not with them that had sinned, whose carcases fell in the wilderness?
18 And to whom sware he that they should not enter into his rest, but to them that believed not?
19 So we see that they could not enter in because of unbelief.
About the Author
Mychal S. Massie is an ordained minister who spent 13 years in full-time Christian Ministry. Today he serves as founder and Chairman of the Racial Policy Center (RPC), a think tank he officially founded in September 2015. RPC advocates for a colorblind society. He was founder and president of the non-profit "In His Name Ministries." He is the former National Chairman of a conservative Capitol Hill think tank; and a former member of the think tank National Center for Public Policy Research. Read entire bio here