Imagine If You Get To Heaven and… – Sunday Thought For The Day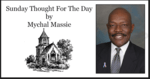 Friday morning as I was waiting to be wheeled down to surgery, I had an interesting conversation with a member of the hospital housekeeping staff attending to my room.  I asked her if she was fully prepared for Christmas?  She replied that she was prepared.
We talked some more and I asked her if she was ready to meet He who was the "Gift" of Christmas.  To my great delight, she proclaimed the Name of Christ as her savior, at which point she and I had a praise the Lord party right there in my hospital room.
It was then that the Holy Spirit brought the following thought to my mind.  I said, we were both born-again Christians and that one day we would meet again in heaven.  I said; just imagine when she and I get to heaven, having me approach her with my family, and introduce myself referencing our conversation at that moment.  Or imagine that she would approach me with her family and reintroduce herself referencing our conversation of that morning.
We had a wonderful few moments of sharing Christ and praising our Lord. Then our conversation ended.  She got on with her work and I was taken down to surgery.
But, specific to the point she and I had discussed, stop and think about for a moment.  Imagine being being in heaven and being approached by someone we may or may not recognize who introduce themselves and proceed to tell us how much a conversation we had on earth changed the course of their lives or encouraged them to be more bold in the sharing of their faith.
Then again, imagine being in heaven and meeting someone God had brought our way we had not shared the good news of salvation with.  Imagine meeting someone we had worked with for many years and had not told about salvation through Jesus Christ.
We are not left here to be muted Christians.  We have life here as Christians, in order to share Jesus Christ with the loss, and to encourage and comfort our brothers and sisters in Christ.
In short, we remain here after we are saved to do the work of the Lord.  That includes more than the feel good social ministries so many churches applaud themselves for today.  Social ministries are feel good pat on the back moments that do little for Christ, because they do little if anything to change the heart of sinners.
Having a belly full of pancakes and back won't get the unsaved to heaven; but, an unsaved sinner with an empty belly, having their heart turned to Christ for salvation, will be welcomed home by the Lord Himself.
READ:
Luke 2:25-35 KJV
25 And, behold, there was a man in Jerusalem, whose name was Simeon; and the same man was just and devout, waiting for the consolation of Israel: and the Holy Ghost was upon him.
26 And it was revealed unto him by the Holy Ghost, that he should not see death, before he had seen the Lord's Christ.
27 And he came by the Spirit into the temple: and when the parents brought in the child Jesus, to do for him after the custom of the law,
28 Then took he him up in his arms, and blessed God, and said,
29 Lord, now lettest thou thy servant depart in peace, according to thy word:
30 For mine eyes have seen thy salvation,
31 Which thou hast prepared before the face of all people;
32 A light to lighten the Gentiles, and the glory of thy people Israel.
33 And Joseph and his mother marvelled at those things which were spoken of him.
34 And Simeon blessed them, and said unto Mary his mother, Behold, this child is set for the fall and rising again of many in Israel; and for a sign which shall be spoken against;
35 (Yea, a sword shall pierce through thy own soul also,) that the thoughts of many hearts may be revealed.
About the Author
Mychal S. Massie is an ordained minister who spent 13 years in full-time Christian Ministry. Today he serves as founder and Chairman of the Racial Policy Center (RPC), a think tank he officially founded in September 2015. RPC advocates for a colorblind society. He was founder and president of the non-profit "In His Name Ministries." He is the former National Chairman of a conservative Capitol Hill think tank; and a former member of the think tank National Center for Public Policy Research. Read entire bio here