Is Going To Church All The Jesus We Need? – Sunday Thought For The Day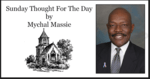 Recently I stopped in the men's shop where I buy my dress clothing to pick up shirts and socks. The gentleman who runs the shop was doing a fitting for a patron when I arrived, and as I waited a friendly conversation developed between all of us.
In the course of our conversation as the wife of the gentleman being fitted started to make a point, she sheepishly shared that she went to church. With that admission, she lowered her voice and qualified her church attendance, saying that while she attended church she, "wasn't real religious like some people that go to church." She then went on to make her point, which brings me to mine.
Driving home I reflected on our conversation. I wondered why the woman had felt it necessary to qualify, that while she and her family were churchgoers, she wasn't zealous for God like some who attend church, as if those people were a lesser sect? I thought to myself; does she not understand what Jesus meant when He said: "Whosoever, therefore, shall be ashamed of me and of my words in this adulterous and sinful generation, of him also shall the Son of man be ashamed, when he cometh in the glory of his Father, with the holy angels." (Mark 8:38 KJV)
There is no ambiguity in the Word of God as written by the Apostle Peter who wrote: "Because it is written, Be ye holy; for I am holy." (1 Peter 1:16 KJV)
The Apostle Paul told us: "Be ye followers of me, even as I also am of Christ. Now I praise you, brethren, that ye remember me in all things, and keep the ordinances, as I delivered them to you." (1 Corinthians 11:1-2 KJV)
How then, can we say that we have faith? The Apostle Paul was forthright in saying: "For therein is the righteousness of God revealed from faith to faith: as it is written, The just shall live by faith." (Romans 1:17 KJV)
We are instructed without equivocation in the preceding four Bible verses. How can we aspire to follow Christ and be obedient to God's Word if we are ashamed to be imitators of Christ? What do we base our righteousness on if we're interested in going to church but not interested in publicly living a life of Christ.
Therein scripture speaks of us having our own righteousness. The problem with that is, our righteousness is not righteousness that God accepts unless it is based upon faith in Christ Jesus and obedience to Him.
It appeared clear that going to church was all the Jesus the woman needed. How many reading this have stopped to ask themselves if going to church was all the Jesus they needed? How many reading this can truthfully say, they want to live their lives in a way that shows Christ to others? Do we really desire to be the light of the city set on the hill that Jesus spoke of? (See: Matthew 5:13-16 KJV)
READ: Romans 10:2-4 (KJV)
2 For I bear them record that they have a zeal of God, but not according to knowledge.
3 For they being ignorant of God's righteousness, and going about to establish their own righteousness, have not submitted themselves unto the righteousness of God.
4 For Christ is the end of the law for righteousness to every one that believeth.
About the Author
Mychal S. Massie is an ordained minister who spent 13 years in full-time Christian Ministry. Today he serves as founder and Chairman of the Racial Policy Center (RPC), a think tank he officially founded in September 2015. RPC advocates for a colorblind society. He was founder and president of the non-profit "In His Name Ministries." He is the former National Chairman of a conservative Capitol Hill think tank; and a former member of the think tank National Center for Public Policy Research. Read entire bio here