It Doesn't Work That Way – Sunday Thought For The Day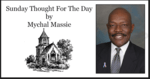 One of my favorite films is the Steve Martin comedy My Blue Heaven, which also starred the comedic actor, Rick Moranis.  Two FBI agents; Barney played by Rick Moranis and his partner Kirby have dreams of being undercover agents.  Disgruntled and disappointed that the thing they want to do most is not accorded them, the FBI agent named Kirby announces out of nowhere to Barney that he is going undercover.
Barney responds: Who made you undercover?
Kirby replies: I did.
Barney incredulously responds: It doesn't work that way.
I don't mention this movie dialogue as encouragement to watch the movie.  I mention it because, the exchange between the two agents is a perfect example of what biblical scripture calls false assurance.
I was reminded of this when I recently heard someone do their best impression of: these are the things a Christian would say in this situation.  The problem was/is they are only Christian in their own mind.  Having what some reference as Christian values doesn't make one a Christian anymore than mumbling pious platitudes does.  But, there stood the person I reference doing their best imitation.
Just as the Kirby character in the movie refused to accept the fact that he couldn't make himself an undercover agent, the person I reference steadfastly refused to accept the fact that they cannot make themselves a Christian.  As Barney said in the movie: "It doesn't work that way."  And yet despite all biblical teaching to the contrary, there remains people who are convinced they can set their own standards for their salvation.  Still, in actuality that's not altogether untrue.  The fact that God gave us free will, means people are free to believe errantly and falsely if they choose.  The problem with such wrongful thinking is that there is no salvation apart from being born-again in Jesus Christ.  It matters not one iota what one chooses to believe to the contrary.  But, I digress.
The person I reference rejects the way to salvation through Jesus Christ.  They have no interest in reading the Bible, they have no interest in attending church, albeit they do attend Christmas service to watch their children participate in the church's annual "Winter Celebration."  The person uses the Lord's name in vain more often than they say "I love you" to their wife.  They believe they're okay, because by their standards they are "good" despite the fact that Christ said none are good save one.  They have no interest whatsoever in the things of Christ.
It sickens me when a person feigns being a Christian.  Their lives are not filled with the Holy Spirit nor are their steps ordered by the Lord.  They believe in self not in waiting upon the Lord.  They believe their efforts are the answer to whatever it is they claim to be praying about.  God is just an anecdotal participant they permit to be involved as long as He doesn't get in the way.  Belief in God answering prayer is more a crapshoot than unwavering faith.  I always wonder just what it is they plan pray to, when they say: "I'll be praying for you."
I genuinely pity the persons who reject God's plan of Salvation, relying upon their own standard(s) for salvation instead.  Because, as Barney said in My Blue Heaven; "It doesn't work that way."
READ:
Romans 10:9-13 KJV
9 That if thou shalt confess with thy mouth the Lord Jesus, and shalt believe in thine heart that God hath raised him from the dead, thou shalt be saved.
10 For with the heart man believeth unto righteousness; and with the mouth confession is made unto salvation.
11 For the scripture saith, Whosoever believeth on him shall not be ashamed.
12 For there is no difference between the Jew and the Greek: for the same Lord over all is rich unto all that call upon him.
13 For whosoever shall call upon the name of the Lord shall be saved.
Ephesians 2:8-10 KJV
8 For by grace are ye saved through faith; and that not of yourselves: it is the gift of God:
9 Not of works, lest any man should boast.
10 For we are his workmanship, created in Christ Jesus unto good works, which God hath before ordained that we should
About the Author
Mychal S. Massie is an ordained minister who spent 13 years in full-time Christian Ministry. Today he serves as founder and Chairman of the Racial Policy Center (RPC), a think tank he officially founded in September 2015. RPC advocates for a colorblind society. He was founder and president of the non-profit "In His Name Ministries." He is the former National Chairman of a conservative Capitol Hill think tank; and a former member of the think tank National Center for Public Policy Research. Read entire bio here