It Is Finished – Sunday Thought For The Day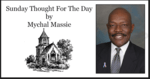 When Jesus shouted from the cross: "It is finished" (John 19:30 KJV), it was a shout of victory not a resignation of defeat. Thus the question that then begs an answer, is why are so many people who claim to be born-again Christians going about lamenting the strength and divinity of Satan?
There is nothing that was not and is not known to God. God is the Author and Creator of time and eternity. He is "pre-existent" in the truest definition of the word. God is also omniscient, i.e., all knowing. This is an important understanding of God to keep in mind. Because, understanding and believing that gives us realization that God wasn't caught off guard or surprised when man sinned in the Garden. I submit, and nothing dissuades me otherwise, that Genesis 3:15 (KJV) was not a backup plan, but rather part of "The Plan" to make it possible for man to spend eternity with God as intended from the moment of creation.
God cannot look upon sin nor can sin exist in His presence. Thus when Jesus shouted, "It is finished;" It was the shout of victory that forgiveness for sin and the cleansing through the sacrifice of His shed blood was complete. And when He arose from the grave He brought the culmination of life eternal in the presence of God with Him.
Genesis 3:15 (KJV) was the pronouncement of Satan's sentence, i.e., punishment. Genesis 3:15 (KJV) was also the announcement of the promise of Salvation for fallen man. The crucifixion and subsequent resurrection of Christ was the culmination of God's promise to man that day in the Garden. The administration of the Satan's punishment will be when he is thrown into the lake of fire (Revelation 20:10 KJV).
With that in mind, why on earth do so many Christians extol the power of Satan to dislodge us from Christ? Earth my be the prince of the air, i.e., Satan's home ball park, but God Almighty holds the lease. Being born-again means we not only have our sin forgiven and will spend eternity with God, it means we are victorious. If we have accepted Christ as our Savior, why would we walk around giving attestment to the power of Satan juxtaposed to our shouting and singing praises to our Lord for our victory in Jesus?
We are to be aware of the wiles of the devil, but we are not to believe he has the power to "pluck us out of the hand of Christ." (See: John 10:28 KJV)
READ: John 10:27-30 KJV
27 My sheep hear my voice, and I know them, and they follow me:
28 And I give unto them eternal life; and they shall never perish, neither shall any man pluck them out of my hand.
29 My Father, which gave them me, is greater than all; and no man is able to pluck them out of my Father's hand.
30 I and my Father are one.
About the Author
Mychal S. Massie is an ordained minister who spent 13 years in full-time Christian Ministry. Today he serves as founder and Chairman of the Racial Policy Center (RPC), a think tank he officially founded in September 2015. RPC advocates for a colorblind society. He was founder and president of the non-profit "In His Name Ministries." He is the former National Chairman of a conservative Capitol Hill think tank; and a former member of the think tank National Center for Public Policy Research. Read entire bio here