Itching Ears – Sunday Thought For The Day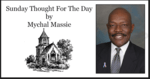 In the early moments of our desire to fulfill sinful lusts of the flesh, there is for most of us a nagging persistence that we're going down the wrong path.  The easiest way to dismiss this haunting conviction by the Holy Spirit, is to find a figure and/or a group who play church, but deny both the power and the truth of God's Word.
The truth is, for many today the facade of religiosity is just the mask they wear; what we really desire and want is approval of our disobedience.  We want not to be told what we're doing or not doing has negative eternal consequences.
This is what the Apostle Paul was referencing when he "charged" Timothy to: preach the Scriptures, using them unceasingly to reprove, rebuke, and exhort through proper application.  The beloved Apostle made it emphatically clear: "…the time will come when they will not endure sound doctrine; but after their own lusts shall they heap to themselves teachers, having itching ears; And they shall turn away their ears from the truth, and shall be turned unto fables." (See: 2 Timothy 4:2-4 KJV)
"Itching ears" is the characteristic of those who are looking for teaching and instruction that permits sinful behavior.  They want to be told there are no consequences for their wrongful behavior and attitudes.  And such were many of us before coming to Jesus Christ and repenting of sinful actions.  There remains, as Paul stated, those persons who have the facade of coming to Christ, but who in reality haven't the least interest in repenting of their sinful ways.  Thus, their need to find teachers, preachers, and churches that preach grace but who refuse to preach on sin and true repentance.
If such behavior was prevalent in the Apostle Paul's and Timothy's day, how much more so today?  Take for example the grotesque disobedience of politicians and the demonic coterie of pop-culture icons, who are lecturing us on right and wrong.  These people have truly exchanged the truth for lies.
To the shame of Christendom, many who claim to be Christians accept without question when some musician, politician, actor or athlete pompously adjures that we're to heed their fallacious construct of Christianity as absolute truth.
My friends, many have bought the same lie and trick of Satan that he used to deceive Eve.  He proffers a lie with the veneer of truth and waits for us to say "I think" juxtaposed to us saying, "Thus sayeth the infallible and immutable Word of God."
READ:
James 1:22-26 KJV
22 But be ye doers of the word, and not hearers only, deceiving your own selves.
23 For if any be a hearer of the word, and not a doer, he is like unto a man beholding his natural face in a glass:
24 For he beholdeth himsPeople elf, and goeth his way, and straightway forgetteth what manner of man he was.
25 But whoso looketh into the perfect law of liberty, and continueth therein, he being not a forgetful hearer, but a doer of the work, this man shall be blessed in his deed.
26 If any man among you seem to be religious, and bridleth not his tongue, but deceiveth his own heart, this man's religion is vain.
About the Author
Mychal S. Massie is an ordained minister who spent 13 years in full-time Christian Ministry. Today he serves as founder and Chairman of the Racial Policy Center (RPC), a think tank he officially founded in September 2015. RPC advocates for a colorblind society. He was founder and president of the non-profit "In His Name Ministries." He is the former National Chairman of a conservative Capitol Hill think tank; and a former member of the think tank National Center for Public Policy Research. Read entire bio here