It's Not How We Live, It's In Whom We Believe – Sunday Thought For The Day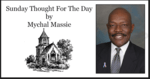 I've heard it said that: "It's how we live that determines how we die." That's only marginally true. What is true in toto is: "What we believe when alive, determines where we will spend eternity."
There are people who live healthy lifestyles and discover they have serious life-threatening diseases. People who are not overweight, who supposedly eat the right foods and exercise, people who have never smoked and people who were not employed in industries that were dangerous to their health, have developed diseases that rob them of their health and quality of life.
In brief, living the healthiest lifestyle possible doesn't guarantee we will won't contract horrible diseases and ailments that completely debilitate and/or incapacitate us. We can live healthy, wholesome lives and die from an injury.
Ergo, the fact, that how we live only "marginally determines how we die."
But it is a fact that what we believe and in Whom we believe determines where we will spend eternity when we die. What we must believe is that it's only through faith in Jesus Christ as the Son of God who was all man and all God; who was born of a virgin and who lived a sinless life, was crucified, dead, buried, arose the third day, was seen thereafter by many, who ascended into heaven and who is returning again for those who believe in Him. What we must believe is that Christ is the only acceptable "Sacrifice" for our sins that God will accept to pay our sin debt. He alone is the only way to heaven.
I'm am not advocating nor suggesting that we should live unhealthy and reckless lives; I am stating with no fear of being wrong, that it is in "Whom" we believe that determines where and with whom we spend eternity. Accept Christ as our Savior and we will spend eternity with Him. Reject Him and we will spend eternity in hell with Satan, demons and all others who rejected Christ.
We can live healthy lifestyles and go to hell when we die or we can be accept Christ as our Savior and spend eternity with God in heaven when we die.
READ: Romans 10:8-13 King (KJV)
8 But what saith it? The word is nigh thee, even in thy mouth, and in thy heart: that is, the word of faith, which we preach;
9 That if thou shalt confess with thy mouth the Lord Jesus, and shalt believe in thine heart that God hath raised him from the dead, thou shalt be saved.
10 For with the heart man believeth unto righteousness; and with the mouth confession is made unto salvation.
11 For the scripture saith, Whosoever believeth on him shall not be ashamed.
12 For there is no difference between the Jew and the Greek: for the same Lord over all is rich unto all that call upon him.
13 For whosoever shall call upon the name of the Lord shall be saved.
About the Author
Mychal S. Massie is an ordained minister who spent 13 years in full-time Christian Ministry. Today he serves as founder and Chairman of the Racial Policy Center (RPC), a think tank he officially founded in September 2015. RPC advocates for a colorblind society. He was founder and president of the non-profit "In His Name Ministries." He is the former National Chairman of a conservative Capitol Hill think tank; and a former member of the think tank National Center for Public Policy Research. Read entire bio here