Jeshurun: A Name That Should Cause Christians To Tremble – Sunday Thought For The Day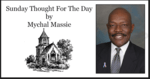 In the Old Testament Book of Deuteronomy we read: "But Jeshurun waxed fat, and kicked: thou art waxen fat, thou art grown thick, thou art covered with fatness; then he forsook God which made him, and lightly esteemed the Rock of his salvation." (32:15 KJV)
"Jeshurun" literally means: "Upright one. It is a poetical name for Israel, designating it under its ideal character." (C.I. Scofield, D.D.)
This verse is important to note because I believe it speaks to Christendom as a people in America today. As Christians we are genetically connected, i.e., tied to Israel and as such we are "heirs to the promise" to Abraham. (See: Galatians 3:26-29 KJV)
Much of Christendom in America has long since abandoned "its ideal character." Within that which is recognized as the church and religion in America today, every conceivable form of sin that can be imagined is celebrated. In many instances marquees outside churches boast of that which God has called an abomination. In many instances so-called church leaders wrap disobedience and paganism in what they define as love and present it as being obedient.
Nothing could be further from the truth. Nowhere in the entire Word of God is there a reference or example of God blessing disobedience. Quite the contrary. No one shined more brightly for God than Moses and yet because he struck the "rock twice" instead of speaking to it as God had instructed, God would not let him cross into the promised land. (See: Numbers 20:7-12 KJV)
God called David "a man after His own heart." (See: 1 Samuel 13:14; Acts 13:22) God lauded David in 1 Kings 15:5. The same David, father of Solomon whom God blessed beyond measure with understanding and wisdom. The same David, God gave as reason for not taking the kingdom out of Solomon's hand do to his disobedience. (1 Kings 11:34 KJV) And yet this is the same David that God would not permit to build the temple, because of his sin with Bathsheba and murder of Uriah. (See: 1 Chronicles 17: 4 KJV)
However, this is not about the merciless judgement of God. I turn your attention to the forgiveness that is available from God through Jesus Christ if we turn back to Him, with confession and repentance.
America stands at the intersection of forever. It is paramount that the church, i.e., Christians turn to God in obedience. Look around us. Can we not see what disobedience has already wrought here? God's patience is not without end. If He spared not greater servants than we, on what basis do we think He will spare us?
READ: Hebrews 10:19-27 (KJV)
19 Having therefore, brethren, boldness to enter into the holiest by the blood of Jesus,
20 By a new and living way, which he hath consecrated for us, through the veil, that is to say, his flesh;
21 And having an high priest over the house of God;
22 Let us draw near with a true heart in full assurance of faith, having our hearts sprinkled from an evil conscience, and our bodies washed with pure water.
23 Let us hold fast the profession of our faith without wavering; (for he is faithful that promised;)
24 And let us consider one another to provoke unto love and to good works:
25 Not forsaking the assembling of ourselves together, as the manner of some is; but exhorting one another: and so much the more, as ye see the day approaching.
26 For if we sin wilfully after that we have received the knowledge of the truth, there remaineth no more sacrifice for sins,
27 But a certain fearful looking for of judgment and fiery indignation, which shall devour the adversaries.
About the Author
Mychal S. Massie is an ordained minister who spent 13 years in full-time Christian Ministry. Today he serves as founder and Chairman of the Racial Policy Center (RPC), a think tank he officially founded in September 2015. RPC advocates for a colorblind society. He was founder and president of the non-profit "In His Name Ministries." He is the former National Chairman of a conservative Capitol Hill think tank; and a former member of the think tank National Center for Public Policy Research. Read entire bio here