Jesus Loves Me – Sunday Thought For The Day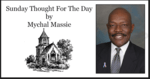 The following is from chapter 22 of my book, I Feel The Presence of The Lord.
One Sunday morning as I was preparing for church, I heard a hymn that I sang as a child. The hymn
was: "Jesus Loves Me." You are no doubt familiar with it too. "Jesus loves me this I know, for the Bible tells me so; little ones to Him belong, they are weak but He is strong."
As I listened to the instrumental version of the hymn, I thought to myself that millions upon millions of children have sang that wonderful hymn. I thought of the more than 53 million children in America alone, who were denied the opportunity to sing praise to God as they lifted their voices to heaven with the chorus: "Yes Jesus loves. Yes Jesus loves me. Yes Jesus loves me, the Bible tells me so."
But then it occurred to me that the tens of millions of children around the world who have been murdered by abortion were never given the opportunity to sing praises to God here, but every one of those murdered unborn children are singing praises to God face-to- face in glory. Their tiny limbs and bodies are restored, and they are not just experiencing the love they were denied here on Earth, but they are experiencing the love of Jesus in a way those who are responsible for their deaths will never know if they do not repent of their evil and turn to Christ for salvation.
Through Christ we can have forgiveness, but if we deny Him, He will deny us. If we reject Him, He will reject us. (Mark 8:38 KJV)
Amazingly enough, God gives us a chance to repent and seek forgiveness for our sins, even the sin of murdering our children. Children who have been murdered by abortion are in heaven with the Lord the moment life leaves them, whether in the womb or partially out of it; because they have not reached their age of accountability.
But what about their parents and the doctors responsible for killing them? The fact is that there is hope and there is forgiveness for them if they seek it. Imagine being able to join unborn children who have been made whole and who sing praises to our Holy God in heaven, not as their killers, but as a person forgiven of their sins.
Yes, Jesus loves us, and yes we know, because the Bible tells us so. And He loves us enough to forgive of the most heinous sins, if we repent, confess our sins, and turn to Him for forgiveness.
Now, that is a song worth singing.
READ: Romans 6:23; 1 John 1:8-2:2 (KJV)
23 For the wages of sin is death; but the gift of God is eternal life through Jesus Christ our Lord.
1 John 1:8-2:21:
8 If we say that we have no sin, we deceive ourselves, and the truth is not in us.
9 If we confess our sins, he is faithful and just to forgive us our sins, and to cleanse us from all unrighteousness.
10 If we say that we have not sinned, we make him a liar, and his word is not in us.
2 My little children, these things write I unto you, that ye sin not. And if any man sin, we have an advocate with the Father, Jesus Christ the righteous:
2 And he is the propitiation for our sins: and not for ours only, but also for the sins of the whole world.
About the Author
Mychal S. Massie is an ordained minister who spent 13 years in full-time Christian Ministry. Today he serves as founder and Chairman of the Racial Policy Center (RPC), a think tank he officially founded in September 2015. RPC advocates for a colorblind society. He was founder and president of the non-profit "In His Name Ministries." He is the former National Chairman of a conservative Capitol Hill think tank; and a former member of the think tank National Center for Public Policy Research. Read entire bio here