Jesus Said "Feed My Lambs" – Sunday Thought For The Day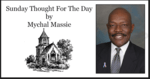 In John 21:15 Jesus said: "…Simon, son of Jonas, lovest thou me more than these…Feed my lambs." (KJV)
It is of note that Jesus spoke directly to Peter. He called him out if you will. But, that's not to say or remotely suggest that Jesus was speaking exclusively to Peter. Jesus, I believe, spoke thus to Peter because even though Peter, John, and James were the closest to Jesus, Peter was the alpha dog if you will. Peter, was the first among equals. So by challenging and admonishing Peter, everyone else that was with Him at that time understood clearly that they were being commissioned as well. Jesus wasn't just telling Peter to feed His "little lambs." He was telling them all to do the same.
When Jesus said: "Feed my lambs," which is actually "little lambs," He was telling Peter to feed the younger and more tender part of His flock, the weak believers, Christ's little children, newborn babes in Christ to paraphrase John Gill. (Gill's Exposition of The Whole Bible; John 21:15 KJV)
The charge and commission Jesus gave Peter has not changed throughout history, nor does it exclude Christians today.
Jesus didn't speak of Peter having denied Him three times at His crucifixion. Scripture doesn't seem to place the emphasis on Peter's failure that so many like to place on it today. Rather, scripture focuses upon the tenderness and yet straight forward directive Christ gave to Peter.
Jesus uses the word "agapao" for love meaning, "to love deeply" as He instructs Peter. The directive was clear: If you love me more these you are to, (and you will), "Feed my lambs."
You don't get "sheep" without "lambs" being fed, nurtured, and watched over unto they are full grown.
If Peter didn't love Christ more than "these things" he wouldn't be able to feed the lambs. But what are the "these?" At that specific moment, it was the trappings of his successful entrepreneurship as a fisherman.
That is the message for us today. We cannot love "things or people more deeply than we love Christ and be able to feed His little lambs, i.e., the new and the young immature Christians. But, there is another caveat I point out to you and that is we cannot truly love, i.e., agapao Jesus unless we know Him. And we cannot know Him unless we spend the time with Him in reading, studying, and meditating on the Bible, and spending time in prayer seeking to know Him more. Unless we have a deep personal relationship with Christ born out of our love for Him above all things, we are marginal Christians – if not outright failed carnal Christians.
We need strong in faith, tried in the fire, deep in love with Jesus Christians to guide the babes in Christ to maturity in Christ. We need spirit-filled men, women, and young people to guide and minister to the babes in Christ to maturity. But that can only be done if we love Christ more than the things and people around us.
READ: 1 Corinthians 13:1-8 (KJV)
1 Though I speak with the tongues of men and of angels, and have not charity, I am become as sounding brass, or a tinkling cymbal.
2 And though I have the gift of prophecy, and understand all mysteries, and all knowledge; and though I have all faith, so that I could remove mountains, and have not charity, I am nothing.
3 And though I bestow all my goods to feed the poor, and though I give my body to be burned, and have not charity, it profiteth me nothing.
4 Charity suffereth long, and is kind; charity envieth not; charity vaunteth not itself, is not puffed up,
5 Doth not behave itself unseemly, seeketh not her own, is not easily provoked, thinketh no evil;
6 Rejoiceth not in iniquity, but rejoiceth in the truth;
7 Beareth all things, believeth all things, hopeth all things, endureth all things.
8 Charity never faileth: but whether there be prophecies, they shall fail; whether there be tongues, they shall cease; whether there be knowledge, it shall vanish away.
About the Author
Mychal S. Massie is an ordained minister who spent 13 years in full-time Christian Ministry. Today he serves as founder and Chairman of the Racial Policy Center (RPC), a think tank he officially founded in September 2015. RPC advocates for a colorblind society. He was founder and president of the non-profit "In His Name Ministries." He is the former National Chairman of a conservative Capitol Hill think tank; and a former member of the think tank National Center for Public Policy Research. Read entire bio here