Key Thing Many Christians Miss – Sunday Thought For The Day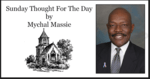 John Wesley warned: "One of the principal rules of religion is, to lose no occasion of serving God."  He was right!  This is clearly where Christendom has embraced failure.  While on the other hand, Satan and his minions seldom, if ever,  fail to exploit an opportunity.
They never, never agree with or honor truth and they've never in the annals of time offered to embrace truth and righteousness.  They never apologize for being evil and wicked, and the only time they're interested in Christian ecumenical cooperation, (which I oppose on every level), is when it leads to subversion of the Word of God.  The only relationship they want with true Christians is one which leads to the corruption of the Christian.
The once faithful Christian church, out of a misguided sense of "let's be friends" and a complete misunderstanding of "Godly love" has been led astray.
In brief, the minions of Satan always serve him.  As noted earlier, they're not interested in modeling the character of Christ.  Predictably however – many Christian churches have with great pride allowed themselves to become recruiting stations for the evil one.  Which brings me to final points about said minions; they never allow themselves to become distracted and they show no signs of fatigue.  If only more born-again Christians had the same work and commitment ethic.
Christendom has become distracted and attached to the things and interests of this world, which has allowed for the rise of false doctrines and false teachers.  The minions of Satan do not suffer from a desire to have friendship with Christ and the sons of God.  They hate us and want to destroy us.
God called us to be separate and distinct from them.  As Dwight L. Moody said: "Christians should live in the world, but not be filled with it. A ship lives in the water; but if the water gets into the ship, she goes to the bottom. So Christians may live in the world; but if the world gets into them, they sink."
Families are destroyed, because parents allow godlessness to be a part of their home.  Christian families allow the enemy of our souls to lead us back to the sin and addictions Christ delivered us from by cloaking them in vestiges of medical well-being.  These are those who fail to realize that you don't give a former alcoholic a bottle of whiskey, because the whiskey supposedly has some remedial medicinal qualities.
John Wesley was absolutely correct regarding principle evidences of  Christians as quoted in my opening paragraph.  That said, those of us who claim to be born-again Christians must be absolutely clear and inflexibly committed to the primacy of God.  If we want any part of the world more than we want God and His Word in our lives, God isn't the most important in our lives.
The Word of God is immutable.  It isn't open to situational ethics and personal interpretation(s) that allow us to decide what parts of His Word we will honor and obey, and what portions we can manipulate based upon our reasoning.  By falling into such traps we not only miss opportunities to serve God, but we become of greater service to enemy of our souls than we are laborers together for Christ.
READ:
Proverbs 1:5; 7-19 KJV
5 A wise man will hear, and will increase learning; and a man of understanding shall attain unto wise counsels:
7 The fear of the Lord is the beginning of knowledge: but fools despise wisdom and instruction.
8 My son, hear the instruction of thy father, and forsake not the law of thy mother:
9 For they shall be an ornament of grace unto thy head, and chains about thy neck.
10 My son, if sinners entice thee, consent thou not.
11 If they say, Come with us, let us lay wait for blood, let us lurk privily for the innocent without cause:
12 Let us swallow them up alive as the grave; and whole, as those that go down into the pit:
13 We shall find all precious substance, we shall fill our houses with spoil:
14 Cast in thy lot among us; let us all have one purse:
15 My son, walk not thou in the way with them; refrain thy foot from their path:
16 For their feet run to evil, and make haste to shed blood.
17 Surely in vain the net is spread in the sight of any bird.
18 And they lay wait for their own blood; they lurk privily for their own lives.
19 So are the ways of every one that is greedy of gain; which taketh away the life of the owners thereof.
About the Author
Mychal S. Massie is an ordained minister who spent 13 years in full-time Christian Ministry. Today he serves as founder and Chairman of the Racial Policy Center (RPC), a think tank he officially founded in September 2015. RPC advocates for a colorblind society. He was founder and president of the non-profit "In His Name Ministries." He is the former National Chairman of a conservative Capitol Hill think tank; and a former member of the think tank National Center for Public Policy Research. Read entire bio here