Knowing The Truth Prevents Us From Falling For Lies – Sunday Thought For The Day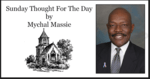 Two new falsities are sown into Christianity in an attempt to undermine the Word of God and mislead believers through lies and confusion.  They're Christian nationalism and progressive Christianity.  They are both false and have no association with Biblical Christianity. They're demonic creations intended to shift the thoughts, minds, and conversations of the easily misled, spiritually immature and the biblically illiterate to a pliability that permits those who manufacture lies for gain to undermine "Truth."
There's no such thing as progressive Christianity.  It's a created assignation intended to foster condemnation and confusion.  True Christianity cannot be progressive.  Progressivism is based upon resentment for God, lies, hatred, anger and subjugation.  None of which is remotely consistent with the teachings of Christ.  Christian nationalist is a red herring intended as a pejorative to subvert the primacy of God.  The Word of God is replete from Genesis to The Revelation with the reality that God is a Nationalist.
This brings me to the question: Is Satan so clever or are Christians so naive?
Personally, I believe many Christians suffer from a naiveté in being both double-mined and bereft of true faith.  Let me explain.
Corrupting language is what the devil and his minions do.  For example: people are no longer identified as homosexual, they are gay.  Abortion is no longer called murdering children, it's called women's healthcare.  Lies are called truth and truth is called a lie.  Sexual perversion is embraced in many churches today, because it is no longer condemned as sexual sin – it's called love.  And so on.
True Christians are not to fall prey to this verbal sleight of hand or tongue as it were.  It was Tertullian who famously encouraged the people that they should rejoice at the persecution of the Roman emperor Nero.  Tertullian said: "We glory in having such a man the leader in our punishment.  For whoever knows him can understand that nothing was condemned by Nero unless it was something of great excellence."
Thus should be our attitude today.  True, faithful Christians are under attack because of the excellence  of the "Truth" we are committed to obeying.  Like Nero, the minions of Satan today cannot permit the "Truth" of who we serve to go uncontested.
True born-again Christians who factually know the Word of God and who are guided by the Holy Spirit should be so steeped in the truth of scripture that they do not fall for such subterfuge. (Think Nehemiah)
The fact that the most celebrated and powerfully wicked persons of today condemn our obedience to God's Word is proof positive that they are trying to prove God's truth isn't truth.  (Consider the serpent in the Garden.)
Biblical understanding and Spiritual wisdom dictates were not to be misled by demonically crafted phrases and assignations designed to have us argue silliness.
READ:
Nehemiah 6:1-14 KJV
1 Now it came to pass when Sanballat, and Tobiah, and Geshem the Arabian, and the rest of our enemies, heard that I had builded the wall, and that there was no breach left therein; (though at that time I had not set up the doors upon the gates;)
2 That Sanballat and Geshem sent unto me, saying, Come, let us meet together in some one of the villages in the plain of Ono. But they thought to do me mischief.
3 And I sent messengers unto them, saying, I am doing a great work, so that I cannot come down: why should the work cease, whilst I leave it, and come down to you?
4 Yet they sent unto me four times after this sort; and I answered them after the same manner.
5 Then sent Sanballat his servant unto me in like manner the fifth time with an open letter in his hand;
6 Wherein was written, It is reported among the heathen, and Gashmu saith it, that thou and the Jews think to rebel: for which cause thou buildest the wall, that thou mayest be their king, according to these words.
7 And thou hast also appointed prophets to preach of thee at Jerusalem, saying, There is a king in Judah: and now shall it be reported to the king according to these words. Come now therefore, and let us take counsel together.
8 Then I sent unto him, saying, There are no such things done as thou sayest, but thou feignest them out of thine own heart.
9 For they all made us afraid, saying, Their hands shall be weakened from the work, that it be not done. Now therefore, O God, strengthen my hands.
10 Afterward I came unto the house of Shemaiah the son of Delaiah the son of Mehetabeel, who was shut up; and he said, Let us meet together in the house of God, within the temple, and let us shut the doors of the temple: for they will come to slay thee; yea, in the night will they come to slay thee.
11 And I said, Should such a man as I flee? and who is there, that, being as I am, would go into the temple to save his life? I will not go in.
12 And, lo, I perceived that God had not sent him; but that he pronounced this prophecy against me: for Tobiah and Sanballat had hired him.
13 Therefore was he hired, that I should be afraid, and do so, and sin, and that they might have matter for an evil report, that they might reproach me.
14 My God, think thou upon Tobiah and Sanballat according to these their works, and on the prophetess Noadiah, and the rest of the prophets, that would have put me in fear.
About the Author
Mychal S. Massie is an ordained minister who spent 13 years in full-time Christian Ministry. Today he serves as founder and Chairman of the Racial Policy Center (RPC), a think tank he officially founded in September 2015. RPC advocates for a colorblind society. He was founder and president of the non-profit "In His Name Ministries." He is the former National Chairman of a conservative Capitol Hill think tank; and a former member of the think tank National Center for Public Policy Research. Read entire bio here