Living Down To Low Expectations – Sunday Thought For The Day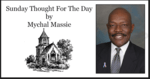 The most difficult part of being a minister is watching people live down to their lowest expectations and teaching their children to do same.
I speak regularly with other ministers, missionaries, ministry workers, including Christian school teachers and administrators.  Without fail, the deliberate destruction of the lives of children by no-expectation defiant to God parents, is an often-voiced lament.
It's a  grievous thing for a parent or parents to make it abundantly clear to their children, that church is perfunctory not a necessity.  Parents who use their employment and/or their children's schoolwork as an excuse to not attend church and/or avoid church activities, are teaching their children a dangerous precedent.
Many people fail to understand that placing anything else before God is making that thing their god.  Having other gods before God is a key act of parental malfeasance.  Parents who cannot sit through an entire worship service without checking their cell phones for sports news and scores has sports as their god.    Parents who cannot sit through a church service without going out two or three times for a cigarette, do not have a cigarette addiction – they have cigarettes as their god.  People struggle to put food on their table, but have their favorite player or sports team's apparel.  If they place those things above food, you need not guess where God ranks.
Such behaviors are termed addictions, but by labeling something an addiction, it lessens and/or removes personally responsibility.
Satan has been active sowing worldly attitudes and interests in the church, while Christendom has been trading its soul to be like the world.  We view baby-killing, i.e., the systematic extermination of children by abortion as horrible, but see nothing wrong with permitting children to be disrespectful. Reducing God to a perfunctory importance isn't given a second thought.
It breaks my heart to watch families do harm to their children by teaching them to marginalize God.  It's heartbreaking to watch parents harden their hearts as their children suffer.  But, with that said, parents can lie to their pastors; we can fool the public; but, we cannot fool God.  How many parents honestly understand how to train up their child in the way he/she should go, so that when they are old they won't stray? (SEE: Proverbs 22:6 KJV)
This admonition is more important today than at any time before.  Our children are being preyed upon in every way possible.  As parents we're supposed to protect our children and raise them in the fear of the Lord.  It's easy to blame outside influences as primary causal factors for our children going astray.  It's much less easy to look in the mirror and admit we have and/or we are encouraging our children to fail, because of how we live our lives.
We can harden our hearts, but at the end of the day, we're accountable for properly raising our children.  What worthwhile parent doesn't want their children to exceed their success?  Where is the pride of parenthood in encouraging our children to underachieve or fail to achieve at all?
I can tell you that any Godly servant understands the pain and anguish Christ felt, as He lamented over Jerusalem.  It's because we feel similar pain when we watch parents going to extraordinary lengths to ensure their child fail and/or underachieve in life.
What compounds the pain, are the words of Christ in Matthew 23:37 "…and ye would not!"  Christ is wants to guide us and leads us in the raising of our children; but we must be willing and obedient.  Raising children in truly Godly homes doesn't guarantee they won't go astray, but it certainly stacks the odds in their favor.  Thus the reason it is critical for us to provide and maintain Godly examples for our children to follow.
READ:
Matthew 23:37-39 KJV
37 O Jerusalem, Jerusalem, thou that killest the prophets, and stonest them which are sent unto thee, how often would I have gathered thy children together, even as a hen gathereth her chickens under her wings, and ye would not!
38 Behold, your house is left unto you desolate.
39 For I say unto you, Ye shall not see me henceforth, till ye shall say, Blessed is he that cometh in the name of the Lord.
About the Author
Mychal S. Massie is an ordained minister who spent 13 years in full-time Christian Ministry. Today he serves as founder and Chairman of the Racial Policy Center (RPC), a think tank he officially founded in September 2015. RPC advocates for a colorblind society. He was founder and president of the non-profit "In His Name Ministries." He is the former National Chairman of a conservative Capitol Hill think tank; and a former member of the think tank National Center for Public Policy Research. Read entire bio here