Marvelous Grace – Sunday Thought For The Day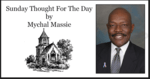 Recently, as a beloved brother in Christ and I were talking, he shared that members of his family had accepted Christ as their Savior. As he shared, we spoke of the angels in Heaven rejoicing at the moment the sin of his family members was forgiven and washed away. We shared Luke 15:10: "Likewise, I say unto you, there is joy in the presence of the angels of God over one sinner that repenteth." (KJV)
We also praised the Lord for delivering two filthy sinners like us from eternal damnation to eternal salvation and how the old hymns of worship reminded us of God's abundant grace.
I was reminded of our conversation this morning as I listened to the hymn, "Grace Greater Than Our Sin," written by Julia Johnston, in 1910.
Marvelous grace of our loving Lord,
Grace that exceeds our sin and our guilt!
Yonder on Calvary's mount outpoured,
There where the blood of the Lamb was spilled.
Refrain:
Grace, grace, God's grace,
Grace that will pardon and cleanse within;
Grace, grace, God's grace,
Grace that is greater than all our sin!
Sin and despair, like the sea waves cold,
Threaten the soul with infinite loss;
Grace that is greater, yes, grace untold,
Points to the refuge, the mighty cross.
Dark is the stain that we cannot hide;
What can we do to wash it away?
Look! There is flowing a crimson tide,
Brighter than snow you may be today.
Marvelous, infinite, matchless grace,
Freely bestowed on all who believe!
You that are longing to see His face,
Will you this moment His grace receive?
As Diana Leagh Matthews wrote: The lyrics express the unending grace of our Lord and Savior, Jesus Christ. The lyrics express the dark, despairing world we live in until we accept the grace "where the blood of the Lamb was spilt."
Oh praise God our loving heavenly Father, who loves us so much more than we can ever truly love Him. How much greater our condemnation, if we reject the love of the grace of God, pierced and poured out for our Salvation.
READ: Isaiah 1:18-20 (KJV)
18 Come now, and let us reason together, saith the Lord: though your sins be as scarlet, they shall be as white as snow; though they be red like crimson, they shall be as wool.
19 If ye be willing and obedient, ye shall eat the good of the land:
20 But if ye refuse and rebel, ye shall be devoured with the sword: for the mouth of the Lord hath spoken it.
About the Author
Mychal S. Massie is an ordained minister who spent 13 years in full-time Christian Ministry. Today he serves as founder and Chairman of the Racial Policy Center (RPC), a think tank he officially founded in September 2015. RPC advocates for a colorblind society. He was founder and president of the non-profit "In His Name Ministries." He is the former National Chairman of a conservative Capitol Hill think tank; and a former member of the think tank National Center for Public Policy Research. Read entire bio here