May We Live Useful – Sunday Thought For The Day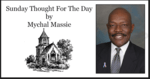 In the book titled: "How to Pray: The Best of John Wesley on Prayer" by John Wesley, there is one of his most often quoted biblical reminders.  Wesley prayed: "God grant that I may never live to be useless."  To which I add; oh God, our Father in heaven – grant that we who claim the name of Christ would commit to desire same.
There's more than one path to live to be useless.  Starting out on fire for Christ and the things of Christ and then succumbing to and modeling after the things of the world is one way.  Becoming complacent, i.e., spiritually fat and lazy so to speak is yet another.  But, I submit there's yet another way to live to be useless to God, but massively useful to the enemy of our souls.  It's the uselessness that comes from demonic pride that leads to strife within the body of believers.  This destructive contagium is born out of the demonically inspired mentality that blinds people to the fact that they have been led away by lies.  Thus, the Apostle Paul instructed the Corinthians, (and us as well of course), to "examine yourselves" to see if they/we are in the faith.
While Paul's admonition is frequently quoted, it often goes unapplied as he intended it when the Holy Spirit prompted him to respond as he did.  Paul's instruction is a counter to verse 3 of the same chapter, where he exerts his Godly bona fides in challenging the Corinthians with what amounts to saying "you have the nerve to demand proof of God speaking in me."  Barnes in his commentary explains the words of Paul: "The particular reason why Paul calls on them to examine themselves was, that there was occasion to fear that many of them had been deceived.  Such had been the irregularities and disorders in the church at Corinth; so ignorant had many of them shown themselves of the nature of the Christian religion, that it was important, in the highest degree, for them to institute a strict and impartial examination to ascertain whether they had not been altogether deceived. This examination, however, is never unimportant or useless for Christians; and an exhortation to do it is always in place. So important are the interests at stake, and so liable are the best to deceive themselves, that all Christians should be often induced to examine the foundation of their hope of eternal salvation."
While there are many ways this deception takes place, the two most often employed by the enemy are pride and applause from the worldly progeny of Satan, who like the crowds that hailed Jesus as He entered the city and would a relatively short period later with even more enthusiasm shout crucify him.
Our walk with Christ must be consistent with the Word of God.  If our ambition is to be recognized and heralded by the masses, we have become useless in service to God.  Granted there are those who are very honest with themselves regarding their true goal(s) being to achieve public prominence, fortune and position.  Yet, there are many others for whom drifting away is gradual and unaware.  Before they know what happened these are they who are discredited, unapproved and/or worthless, i.e., grown useless.
The honest examination of ourselves on the altar of God's Holy Word with the unimpaired desire to become all we can for Christ, is a far distance from the desire to become all we can to hold our heads high while pretending to be humble.
READ:
2 Corinthians 13:4-10 KJV
4 For though he was crucified through weakness, yet he liveth by the power of God. For we also are weak in him, but we shall live with him by the power of God toward you.
5 Examine yourselves, whether ye be in the faith; prove your own selves. Know ye not your own selves, how that Jesus Christ is in you, except ye be reprobates?
6 But I trust that ye shall know that we are not reprobates.
7 Now I pray to God that ye do no evil; not that we should appear approved, but that ye should do that which is honest, though we be as reprobates.
8 For we can do nothing against the truth, but for the truth.
9 For we are glad, when we are weak, and ye are strong: and this also we wish, even your perfection.
10 Therefore I write these things being absent, lest being present I should use sharpness, according to the power which the Lord hath given me to edification, and not to destruction.
About the Author
Mychal S. Massie is an ordained minister who spent 13 years in full-time Christian Ministry. Today he serves as founder and Chairman of the Racial Policy Center (RPC), a think tank he officially founded in September 2015. RPC advocates for a colorblind society. He was founder and president of the non-profit "In His Name Ministries." He is the former National Chairman of a conservative Capitol Hill think tank; and a former member of the think tank National Center for Public Policy Research. Read entire bio here