'Moral Relativism' Is Moral Decay – Sunday Thought For The Day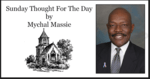 Satan has not stopped trying to convince man that he can be like God, knowing good from evil as defined by sinful man, since Adam and Eve were put out of the Garden of Eden. And there is no greater evidence of this than "moral relativism."
Most Christians are well familiar with the words "moral relativism" but how many truly know what the words actually mean and how this satanic heterodoxy has infiltrated Christendom, the church and the home?
"Moral relativism" simplistically defined is: The belief that ethical standards, morality, and positions of right or wrong are subject to a person's individual choice. We can all decide what is right or wrong for ourselves.
This belief started with Satan himself, which is why he was cast out of Heaven and why under his influence man was cast out of the Garden of Eden.
Billy Graham once said: That in the midst of all the changes taking place, "the nature of God never changes."
"Moral relativism" says there are no absolutes and that right and wrong are positions of choice based upon each person's definition of same. It also holds that the person's view or right/wrong is ever evolving and the more enlightened the individual becomes, the more they accept what is biblically wicked as being morally right.
The thing those embracing same overlook is that God hasn't changed to adapt Himself to this generation. Moral relativists ignore that God said once for all time that: "For I am the Lord, I change not…" (Malachi 3:6 KJV)
God's holiness and righteousness is unchanging; He hasn't redefined morality to fit immoral lifestyles. He hasn't redefined lying to allow for instances when telling lies is acceptable. He hasn't redefined the biblical role of men and women. He hasn't redefined the Ten Commandments, the fact that we are under Grace, notwithstanding. He hasn't redefined who should be leaders in the church and He hasn't redefined what is biblical truth.
But "moral relativism" does all of the aforementioned and more. We become our own god, deciding what we want to be right or wrong. We either do not believe in sin or we marginalize it by subscribing to the lie that "as long as what we do doesn't hurt anyone, as long as what we do is between consenting persons, as long as what we do is because we're in love and so on. In other words, as long as we have a morally acceptable reason for doing what we do it matters not what the Word of God says.
How many who say they are Christians make "morally relative" decisions for embracing immoral and ungodly behavior in the world today because we don't want to appear different? How many Christians embrace the sexual immorality of their children, family members and/or friends because they do not want to suffer their anger and/or disapproval?
God hasn't changed the fact that Judgement Day is coming. Neither has God changed His way of salvation.
Christ spoke more about hell than He did heaven. That's because God loves and wants none of us to perish. But on that day of judgement "moral relativism" cannot save us. We are not forgiven our sins based upon our definition of what sin is nor can we enter into heaven based on belief that we are "good" or "we're not as bad as others."
God hasn't changed to adapt to the millennia of moral decline. It is we who must change. God loves us but we must receive Him and that only comes through Jesus Christ.
READ: Malachi 3:1-7 King James Version (KJV)
1 Behold, I will send my messenger, and he shall prepare the way before me: and the Lord, whom ye seek, shall suddenly come to his temple, even the messenger of the covenant, whom ye delight in: behold, he shall come, saith the Lord of hosts.
2 But who may abide the day of his coming? and who shall stand when he appeareth? for he is like a refiner's fire, and like fullers' soap:
3 And he shall sit as a refiner and purifier of silver: and he shall purify the sons of Levi, and purge them as gold and silver, that they may offer unto the Lord an offering in righteousness.
4 Then shall the offering of Judah and Jerusalem be pleasant unto the Lord, as in the days of old, and as in former years.
5 And I will come near to you to judgment; and I will be a swift witness against the sorcerers, and against the adulterers, and against false swearers, and against those that oppress the hireling in his wages, the widow, and the fatherless, and that turn aside the stranger from his right, and fear not me, saith the Lord of hosts.
6 For I am the Lord, I change not; therefore ye sons of Jacob are not consumed.
7 Even from the days of your fathers ye are gone away from mine ordinances, and have not kept them. Return unto me, and I will return unto you, saith the Lord of hosts. But ye said, Wherein shall we return?
About the Author
Mychal S. Massie is an ordained minister who spent 13 years in full-time Christian Ministry. Today he serves as founder and Chairman of the Racial Policy Center (RPC), a think tank he officially founded in September 2015. RPC advocates for a colorblind society. He was founder and president of the non-profit "In His Name Ministries." He is the former National Chairman of a conservative Capitol Hill think tank; and a former member of the think tank National Center for Public Policy Research. Read entire bio here