"Of Whom Shall I Be Afraid?" by Robert Socha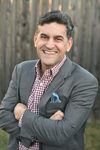 Once again, disparaging news fills the airwaves. Negativity abounds on every medium. There is no hope from traditional news sites nor the alternative ones, only predictions of dire straits.
The economy, supply chains, sickness, turmoil, unrest, betrayal, death, destruction are all beating on our doors, vying for our attention and our submission to the fear caused by an unknown future.
Segue: the inept pullout from Afghanistan is a stain on our national character. The timing is circumspect and distracting. Not only did we abandon our weapons and technology, treasonously aiding and abetting our enemies in that state, but we also abandoned the beautiful Afghan people and fed many to the wolves. I do not believe in the possibility of a magnanimous Taliban regime. Playing politics in the theater of war never ends well (Saigon).
What are we who Believe to do?
Read Psalm 27 daily. Use it as a catalyst for prayer for yourself, your neighbors, your family, your business. The encouragement just in its first verse is remarkable: "The Lord is my light and my salvation; whom shall I fear? The Lord is the strength of my life; of whom shall I be afraid?"
Now take the courage from those verses and engage the process!
The Department of Homeland Security issued a National Terrorism Advisory Bulletin last Friday that paints Americans who question the narrative on the 2020 election outcome and question the efficacy of the worldwide response to a presumed pandemic as potential violent terrorist threats. The United States' current Executive is behaving dictatorially, engaging in the very activities the previous administration was accused of but never acted. The possibility to incarcerate dissent is real, with some still confined because of their actions on January 6th, while riotous BLM and Antifa actors disgustingly run free. I believe this has caused many leaders in the Church to value their liberty over proclaiming the full Gospel in defiance of global events.
A dear friend of mine, Jason Holland, who leads an organization called Joshua Nations issued the following appeal yesterday on his social media page:
"It's time for the leaders in the body of Christ to pull themselves up by their bootstraps and start leading in FAITH! I have read, listened to, and watched "leaders" cower in fear over these past 18 months. Sure, we use wisdom and don't move in presumption – but, COME ON! The world needs Jesus not politics. The world needs the FULL GOSPEL! No more of this mamby pamby / weak wristed / acquiesce to the news / fear induced / satan controlled leadership. I am calling for MEN and WOMEN OF GOD to stand for righteousness and truth. Real truth! Not man's truth. REAL TRUTH!
I am talking about the truth that is stares its aggressor in the eyes and does not back down. I am talking about the truth that brings freedom to those who are depressed and suicidal. The truth that says you can be free from fear, free from bondage, free from the grips of hell.
STOP WATCHING THE FEARMONGERS on the great electric eye. STOP WATCHING THE "INFLUENCERS" on social media.
STOP LISTENING TO CONSTANT SPEW OF GARBAGE THAT THE WORLD OFFERS.
WORSHIP JESUS! FOCUS ON HIM. LET HIM RENEW YOUR MIND, YOUR SPIRIT, YOUR BODY, AND REINVIGORATE YOUR DEAD FAITH!
RISE UP O SLEEPER! Awake from your slumber, and be who HE called you to be!"
I echo this charge and have taken courage from its strength and resolve!
The government is challenging us, hoping we will cower to their daunting demands, and using the term violence to invoke fear and trepidation. I counter that with the following verse:
"And from the days of John the Baptist until now the kingdom of heaven suffers violence, and the violent take it by force." Matthew 11:12
What is meant by violence and violent? I believe both of the words encourage the Believer to pursue "a share in the heavenly kingdom … with the most ardent zeal and intensest exertion" (1) and "to strive to obtain its privileges with the utmost eagerness and effort." (2)
I charge us to "Be strong and of a good courage; be not afraid, neither be you dismayed: for the LORD your God is with you wherever you go." Joshua 1:9 "Awake, O sleeper and arise from the dead, and Christ will shine on you." Ephesians 5:14
May the Glory of the Lord shine through us as we continue to pursue him in these troubled times and share the Hope of His Salvation wherever we may go!
https://www.blueletterbible.org/lexicon/g971/kjv/tr/0-1/
https://www.blueletterbible.org/lexicon/g973/kjv/tr/0-1/
About the Author
Robert Socha, BIO Robert Socha (so-ha), was born in southern California. He served 5 years 3 months active duty in the United States Air Force; honorably. After his service he took an Associate's Degree in Practical Theology, where, through his studies, developed a deep love of God and Country and sincere appreciation of the value of Liberty. Robert and his beloved wife of 21-plus years are raising 4 beautiful Texan children. They moved to Hillsdale, Michigan, in 2013, to put their children in Hillsdale Academy. Robert is a sales professional. He and his wife consider Michigan a hidden gem, and absolutely love this city and state (current political environment notwithstanding) they've adopted.