One Way Here and Too There – Sunday Thought For The Day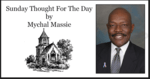 Suppose you decided that even though a street was clearly marked one way, and there was a police patrol car parked on both sides at the corner of the street, it matter to you?  You decided that neither the one way signs nor the police patrol cars were of importance to you.  You were going to go the wrong way on a one way street because that's the way you wanted to go.  You reasoned that they wouldn't stop you because you weren't hurting anyone, and you donated to the police youth athletic league every year.  If they dared to stop you, you'd simply explain that to them.  Do you think the police officers would overlook your flagrantly breaking the law?
It sounds extraordinarily foolish that anyone would be so self-absorbed as to think same.  And it would be just that if someone dared to be so arrogant as to think the traffic laws did not apply to them.  The point I am making is this: If there are rigid, inflexible laws of accessibility that carry severe penalties for failing to comply, in every day life – how is it acceptable to believe one can go to heaven without accepting Jesus Christ as their Savior, if Christ Himself said, faith in Him is the only way?
If not obeying the laws of man carry harsh unforgiving penalties, why is it difficult to believe that disobeying God does not carry an even greater penalty?  Why is it difficult to believe the penalty for rejecting Christ would be more severe?
There are no excuses accepted when it comes to heaven.  What we think doesn't matter.  There is one way and only one way.  Without accepting Christ as our Savior and as the only acceptable sacrifice for forgiveness of our sin, there is no hope of spending eternity with Him in heaven.
It is unfathomable that people believe it's okay to ignore God.  I shudder when I hear people make crude jokes about what they'll tell the Lord when they stand before Him without Christ.  There will be no discussions.  There's one way and one way only to go to heaven and the day awaits each and everyone of us to be judged regarding whether or not we chose that way.
READ: KJV
John 14:6 Jesus saith unto him, I am the way, the truth, and the life: no man cometh unto the Father, but by me.
Acts 4:12 Neither is there salvation in any other: for there is none other name under heaven given among men, whereby we must be saved.
Romans 3:23 For all have sinned, and come short of the glory of God;
24 Being justified freely by his grace through the redemption that is in Christ Jesus:
25 Whom God hath set forth to be a propitiation through faith in his blood, to declare his righteousness for the remission of sins that are past, through the forbearance of God;
Ephesians 2:1-10 KJV
1 And you hath he quickened, who were dead in trespasses and sins;
2 Wherein in time past ye walked according to the course of this world, according to the prince of the power of the air, the spirit that now worketh in the children of disobedience:
3 Among whom also we all had our conversation in times past in the lusts of our flesh, fulfilling the desires of the flesh and of the mind; and were by nature the children of wrath, even as others.
4 But God, who is rich in mercy, for his great love wherewith he loved us,
5 Even when we were dead in sins, hath quickened us together with Christ, (by grace ye are saved;)
6 And hath raised us up together, and made us sit together in heavenly places in Christ Jesus:
7 That in the ages to come he might shew the exceeding riches of his grace in his kindness toward us through Christ Jesus.
8 For by grace are ye saved through faith; and that not of yourselves: it is the gift of God:
9 Not of works, lest any man should boast.
10 For we are his workmanship, created in Christ Jesus unto good works, which God hath before ordained that we should walk in them.
About the Author
Mychal S. Massie is an ordained minister who spent 13 years in full-time Christian Ministry. Today he serves as founder and Chairman of the Racial Policy Center (RPC), a think tank he officially founded in September 2015. RPC advocates for a colorblind society. He was founder and president of the non-profit "In His Name Ministries." He is the former National Chairman of a conservative Capitol Hill think tank; and a former member of the think tank National Center for Public Policy Research. Read entire bio here