Only By The Blood of Christ – Sunday Thought For The Day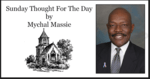 A gentleman at our church shared a meme with me that read: "Everybody's a Christian, until it gets Biblical."  The simple truth of the statement is deniable only by those to whom the words apply.
Tangential to the meme and the point I will be making, is a conversation from a hilariously funny 1990 comedy film.  In the movie a bumbling desk-jockey FBI agent tells another FBI agent, he was working undercover.  The second agent responds: "Who made you undercover?"  The first agent replies: "I did."  To which the second agent responds: "It doesn't work that way!!  You can't make yourself undercover!!"
Taking the meme and the movie example together, we see the logic employed by many claiming to be a Christian.  This is particularly true of politicians and entertainers, although it's hardly exclusive to them.
For many persons being a Christian has nothing to do with the blood of Christ; it has nothing to do with confession and repentance; and it has absolutely nothing to do with Jesus Christ Himself.  They're like the bumbling FBI agent in the movie referenced above.  If asked how they became a Christian, some will tell you they were born that way, while others will opine that they're good people.  In reality they've foolishly decided on their own, completely absent the atonement of Jesus Christ.
People who are guilty of said mentality have made themselves out to be their god.  They've established their own form of righteousness and what is requisite for them to go to their idea of heaven; which brings us to the truth of the meme.
Many people like the idea of being a Christian, but they haven't the least interest in living in obedience to the Word of God and/or living in faith – especially when the difficult times come.
Being a Christian isn't something you become based upon your personal standards.  Being a Christian begins with the belief that Jesus Christ is the Son of God and that He is God.  Being a Christian is confessing our sins and wickedness; it's acknowledging our inability to present a sacrifice acceptable to God for the forgiveness of our sins.  Being a Christian is repenting of our evil godless ways; which means that we through the power of the Holy Spirit repent of evil behavior.  Being a Christian means we have accepted Christ as our Savior.  Becoming a Christian is through faith alone.  It's not by works; it's not by second party sacerdotal intervention nor infant baptism.  And, it's an absolute lie from the pit of hell that a person is or can be born a Christian.
Let us make sure that we have accepted Christ in truth for our own salvation and let us in obedience to the command of Christ Himself, bring the truth of Christ with us wherever we go for the express purpose of sharing the good news of salvation through Jesus Christ.
Being a Christian isn't something we just decide that we are; being a Christian is having our sins forgiven and living in fellowship with Christ.  Being a Christian is living for Christ.
READ:
Romans 5:1-11 KJV
1 Therefore being justified by faith, we have peace with God through our Lord Jesus Christ:
2 By whom also we have access by faith into this grace wherein we stand, and rejoice in hope of the glory of God.
3 And not only so, but we glory in tribulations also: knowing that tribulation worketh patience;
4 And patience, experience; and experience, hope:
5 And hope maketh not ashamed; because the love of God is shed abroad in our hearts by the Holy Ghost which is given unto us.
6 For when we were yet without strength, in due time Christ died for the ungodly.
7 For scarcely for a righteous man will one die: yet peradventure for a good man some would even dare to die.
8 But God commendeth his love toward us, in that, while we were yet sinners, Christ died for us.
9 Much more then, being now justified by his blood, we shall be saved from wrath through him.
10 For if, when we were enemies, we were reconciled to God by the death of his Son, much more, being reconciled, we shall be saved by his life.
11 And not only so, but we also joy in God through our Lord Jesus Christ, by whom we have now received the atonement.
About the Author
Mychal S. Massie is an ordained minister who spent 13 years in full-time Christian Ministry. Today he serves as founder and Chairman of the Racial Policy Center (RPC), a think tank he officially founded in September 2015. RPC advocates for a colorblind society. He was founder and president of the non-profit "In His Name Ministries." He is the former National Chairman of a conservative Capitol Hill think tank; and a former member of the think tank National Center for Public Policy Research. Read entire bio here