Parable of The Talents – Sunday Thought For The Day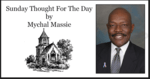 In Matthew 25:14-30 (KJV) we are given a parable with which most are familiar.  It is the parable about a man who goes to a far country and during his absence entrusts his goods unto his servants, i.e., his slaves.  Jesus formatted the parable upon a common patriarchal practice of His time.
The intent was, that the slaves acting as the man's agents during his absence, were given according to their ability and expected to till the land and sell the produce, or to use the money which he left with them as capital in trading.  The understanding was that the slaves would increase the master's goods and in exchange they would share in the profits when the master returned.
The Man referenced in the parable is of course Christ and we are the servants.  The far country Jesus referenced is heaven.  The goods He has left each according to our ability are possessions and abilities.  The increase is expanding the work of the Lord and multiplying the number of persons saved.
Not every one is going to be John Wesley, Charles Haddon Spurgeon, D. L. Moody, C. S. Lewis or R. C. Sproul.  But, our Master expects us to increase His "goods", i.e., His followers and the furtherance of His kingdom in His absence.
The severe consequences for the unproductive servant are far beyond anything incurred resulting from mere business mediocrity; which warns us that we are to invest our lives and resources not waste them.
I submit that wasting our lives and the resources God has given us is exactly what Christendom, i.e, the church is doing today and has been doing to our discredit for a long time.
Tragically, many Christians believe it more important to give money to political campaigns and save the animal campaigns than it is to tithe and support Christian ministries.  Many Christians believe it more important to give massive amounts of money in the neverending battles to have our children immersed in the sewers called public schools, than it is to invest in Christ-centered private Christian schools as evangelistic ministries to reach unsaved young people and their parents.  Making unapologetic and unwavering Christ-centered private schools affordable for all families as a means to reach people for Christ could not be of less importance to Christendom or else we would see more of same in practice.
Add to the aforementioned; more Christians are interested in who won the big game and copying the wickedness of the unsaved than they are in sharing their faith with the unsaved.  It's a sin against God that so many people who claim to be Christians spend more time talking and worrying about who wins the next election than they do reaching people for Christ.
When we're saved we're not left here to copy the world and we certainly aren't left here to worry about the next election or what team wins the championship.  We're given "talents" to further the Kingdom of God on earth until Christ returns to gather His own.
It is a sad indictment that many Christians want "talents" they can use for their own creature comforts juxtaposed to realizing that the "talents" referenced, i.e., our resources, which include our finances, skills, abilities, family connections, social positions, education, experiences are to be used to the glory of God.
The parable tells us: The Master is coming back again; we are to use our goods to the best of our ability to reach people for Christ and to minister to the brethren, (and I am not referring to a social gospel); there will be reward for the faithful and judgement for those who squander their "talents" on worthless pursuits or selfishly horde them.
READ:
Matthew 25:14-30 KJV
14 For the kingdom of heaven is as a man travelling into a far country, who called his own servants, and delivered unto them his goods.
15 And unto one he gave five talents, to another two, and to another one; to every man according to his several ability; and straightway took his journey.
16 Then he that had received the five talents went and traded with the same, and made them other five talents.
17 And likewise he that had received two, he also gained other two.
18 But he that had received one went and digged in the earth, and hid his lord's money.
19 After a long time the lord of those servants cometh, and reckoneth with them.
20 And so he that had received five talents came and brought other five talents, saying, Lord, thou deliveredst unto me five talents: behold, I have gained beside them five talents more.
21 His lord said unto him, Well done, thou good and faithful servant: thou hast been faithful over a few things, I will make thee ruler over many things: enter thou into the joy of thy lord.
22 He also that had received two talents came and said, Lord, thou deliveredst unto me two talents: behold, I have gained two other talents beside them.
23 His lord said unto him, Well done, good and faithful servant; thou hast been faithful over a few things, I will make thee ruler over many things: enter thou into the joy of thy lord.
24 Then he which had received the one talent came and said, Lord, I knew thee that thou art an hard man, reaping where thou hast not sown, and gathering where thou hast not strawed:
25 And I was afraid, and went and hid thy talent in the earth: lo, there thou hast that is thine.
26 His lord answered and said unto him, Thou wicked and slothful servant, thou knewest that I reap where I sowed not, and gather where I have not strawed:
27 Thou oughtest therefore to have put my money to the exchangers, and then at my coming I should have received mine own with usury.
28 Take therefore the talent from him, and give it unto him which hath ten talents.
29 For unto every one that hath shall be given, and he shall have abundance: but from him that hath not shall be taken away even that which he hath.
30 And cast ye the unprofitable servant into outer darkness: there shall be weeping and gnashing of teeth.
About the Author
Mychal S. Massie is an ordained minister who spent 13 years in full-time Christian Ministry. Today he serves as founder and Chairman of the Racial Policy Center (RPC), a think tank he officially founded in September 2015. RPC advocates for a colorblind society. He was founder and president of the non-profit "In His Name Ministries." He is the former National Chairman of a conservative Capitol Hill think tank; and a former member of the think tank National Center for Public Policy Research. Read entire bio here