Parents Are Responsible For Their Children – Sunday Thought For The Day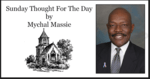 I frequently hear people voice their concern for the future of their children and grandchildren predicated upon the world we live in today.  My response to them is typically always the same.  If they honestly and truthfully are concerned about the future of their children and/or grandchildren, then live their lives in testimony to Jesus Christ; pray for them and dedicate them to God as Hannah the mother of Samuel did prior to conceiving and giving birth to Samuel.
Personally, I never worried about what the world was going to be like when our child was grown.  I was concerned about raising our child to live a life wholly committed to Christ.  If we as parents understand the urgency of doing that, our children will be equipped to live Christ-centered Godly lives.
This is the reality so many parents ignore.  Words are just that, but actions are a a completely different thing.  Our actions prove our words and I submit the most critical part of our actions is respect.  Respect for self and your spouse, respect for marriage, for your neighbors, for your home, community, respect for truth and most importantly parents must show respect for God and embrace His word with respect.
The sad truth is, most children do not respect their parents or adults in general.  They tolerate their parents and other adults as it benefits their personal need(s).  This is how they view God and Christ Jesus, if they recognize them at all.
Often parents who exhibit poor parenting skills resent those who correct their children.  This is not the way of the Lord; it is the path to disappointment and incomplete, if not failed lives.
If we as parents truly commit our lives unto God through Jesus Christ by the power of the Holy Spirit, we are investing the same beliefs into our children and they in turn will invest in kind into their children.  Yes, it's true that some children go astray regardless; but, God's Word is settled in heaven forever thus, Proverbs 22:6 KJV is either true or God is a liar.  Christ also makes clear a child raised properly, knows the way home if they stray from the path of righteousness.
READ:
Deuteronomy 6:5-14 KJV
5 And thou shalt love the Lord thy God with all thine heart, and with all thy soul, and with all thy might.
6 And these words, which I command thee this day, shall be in thine heart:
7 And thou shalt teach them diligently unto thy children, and shalt talk of them when thou sittest in thine house, and when thou walkest by the way, and when thou liest down, and when thou risest up.
8 And thou shalt bind them for a sign upon thine hand, and they shall be as frontlets between thine eyes.
9 And thou shalt write them upon the posts of thy house, and on thy gates.
10 And it shall be, when the Lord thy God shall have brought thee into the land which he sware unto thy fathers, to Abraham, to Isaac, and to Jacob, to give thee great and goodly cities, which thou buildedst not,
11 And houses full of all good things, which thou filledst not, and wells digged, which thou diggedst not, vineyards and olive trees, which thou plantedst not; when thou shalt have eaten and be full;
12 Then beware lest thou forget the Lord, which brought thee forth out of the land of Egypt, from the house of bondage.
13 Thou shalt fear the Lord thy God, and serve him, and shalt swear by his name.
14 Ye shall not go after other gods, of the gods of the people which are round about you;
About the Author
Mychal S. Massie is an ordained minister who spent 13 years in full-time Christian Ministry. Today he serves as founder and Chairman of the Racial Policy Center (RPC), a think tank he officially founded in September 2015. RPC advocates for a colorblind society. He was founder and president of the non-profit "In His Name Ministries." He is the former National Chairman of a conservative Capitol Hill think tank; and a former member of the think tank National Center for Public Policy Research. Read entire bio here