Perfect Parallel To America – Sunday Thought For The Day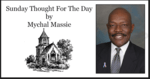 Referencing 1 Kings 11:26-40 (KJV), Matthew Henry wrote: "In telling the reason why God rent the kingdom from the house of Solomon, Ahijah warned Jeroboam to take heed of sinning away his preferment. Yet the house of David must be supported; out of it the Messiah would arise. Solomon sought to kill his successor. Had not he taught others, that whatever devices are in men's hearts, the counsel of the Lord shall stand? Yet he himself thinks to defeat that counsel. Jeroboam withdrew into Egypt, and was content to live in exile and obscurity for awhile, being sure of a kingdom at last. Shall not we be content, who have a better kingdom in reserve? (Matthew Henry's Concise Commentary)  Henry's words are a mirror comparison to the America we've become today.
But as the old saying goes; "the hammer to the [above] nail" is verse 33, where the prophet Ahijah lays bare the reason for God's condemnation: "Because that they have forsaken me, and have worshipped Ashtoreth the goddess of the Zidonians, Chemosh the god of the Moabites, and Milcom the god of the children of Ammon, and have not walked in my ways, to do that which is right in mine eyes, and to keep my statutes and my judgments, as did David his father." 
The people had adopted the worship and demonic practices of the heathens who worshipped pagan gods.  Even more damning, if possible, was their worship of Milcom, the god of the Ammonites and Phoenicians to whom some Israelites sacrificed their infants in the valley of Hinnom.
We know Milcom as Molech, the pagan deity to whom children were sacrificed.  Today, in addition to practicing the most reprobate sexual behavior(s), murder, family dishonor, divination ad nauseum, associated with the worship of the other goddesses and gods in verse 33, America celebrates the sacrificing of children to the god Molech.
Not only is this done through the unconscionable demonic practice of baby-killing, i.e., abortion; but parents sacrifice their children to Satan by their tacit acceptance, encouragement, and financial support of children and young people butchering their bodies in the mentally deranged belief that a boy can become a girl and vice-versa.
Instead of condemning all such behaviors, many churchgoers and Christendom approve of these practices.  Foolish parents boast of their children having themselves butchered and same-sex debauchery.  Many within Christendom have their daughters begin birth control while still in high school openly admitting its so the daughters don't get pregnant.  Parents support their daughters killing their babies while in college, because having a child before graduation is inconvenient.  But biblical abstinence if scoffed at.
The fact that many parents/persons filling the pews today see nothing wrong with these practices, shows how far the church is from God.  Many churchgoers are more concerned about politics and the pursuit of income than obedience to the absolutes of God's Word.  Today sexual deviants, child molesters, and false preachers/teachers occupy prominent positions in churches.  Many who self-identify as christians, support godless behavior.
The hour grows late and we are running out of time before Christ returns.  If God didn't spare those referenced in 1 Kings, do we really think He will spare America that boasts of "sinning away her preferment?"  You are free to disagree with me.
READ:
James 4:1-10 KJV
1 From whence come wars and fightings among you? come they not hence, even of your lusts that war in your members?
2 Ye lust, and have not: ye kill, and desire to have, and cannot obtain: ye fight and war, yet ye have not, because ye ask not.
3 Ye ask, and receive not, because ye ask amiss, that ye may consume it upon your lusts.
4 Ye adulterers and adulteresses, know ye not that the friendship of the world is enmity with God? whosoever therefore will be a friend of the world is the enemy of God.
5 Do ye think that the scripture saith in vain, The spirit that dwelleth in us lusteth to envy?
6 But he giveth more grace. Wherefore he saith, God resisteth the proud, but giveth grace unto the humble.
7 Submit yourselves therefore to God. Resist the devil, and he will flee from you.
8 Draw nigh to God, and he will draw nigh to you. Cleanse your hands, ye sinners; and purify your hearts, ye double minded.
9 Be afflicted, and mourn, and weep: let your laughter be turned to mourning, and your joy to heaviness.
10 Humble yourselves in the sight of the Lord, and he shall lift you up.
About the Author
Mychal S. Massie is an ordained minister who spent 13 years in full-time Christian Ministry. Today he serves as founder and Chairman of the Racial Policy Center (RPC), a think tank he officially founded in September 2015. RPC advocates for a colorblind society. He was founder and president of the non-profit "In His Name Ministries." He is the former National Chairman of a conservative Capitol Hill think tank; and a former member of the think tank National Center for Public Policy Research. Read entire bio here