Praising God During Adversity – Sunday Thought For The Day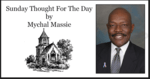 There are certain things that cannot be faked, not least of these is Spirit-filled joy and thanksgiving in midst of suffering.  As I've shared over the past couple weeks, from the very beginning of this year until this past week, it has been for me a unforeseen   protracted battle with my health.  But praise God, His plans and purposes are greater than my suffering.
I cannot praise God enough for His grace and the precious abiding presence of the Holy Spirit.  It was one malady after another, but the most amazing thing was the ever present, indescribable sense of Christ's assurance that I had every waking moment.  His assurance covered me like thick duvet.  Never in my life as a born again Christian have I been less able to describe the presence of the Lord and yet more aware of His tangible presence.  The more I gave thanks to Him and rejoiced at His presence, the less concerned I was with what the doctors were saying and the more blessed and uplifted I was watching what God was doing.
As my wife left prepared to leave the hospital the first night, I told her not to worry.  I said, "God's got this!"  I told her, I have never been more certain of the hand of God than I was right then.
The next morning our son's closest friend was the first person to arrive at my room.  The attentive care he displayed as he went around my room attending to things even now brings tears to my eyes.  He's a young man I've known since he was perhaps 10 or 11 years old.  Little could I have guessed that nearly 30 years later he would show such loyalty to our son and genuine care to us.  I was able to share Christ with several staff during my stay.  I developed an acquaintance with a Muslim gentleman.  And while our spiritual beliefs could not be more different, as our son pushed my wheelchair along side my wife to the elevator the day of my discharge, I spied the gentleman sitting not far away and called to him.  He literally leapt to his feet and with a huge smile came over, shook my hand, and told me he had been praying for me.  I've had Muslims threaten me, but I've never had a Muslim tell me he was praying for me.  I took it that he was praying for my recovery.  He shared where he lived and it's my hope to establish contact with him.
It's never easy for a child to watch their parent suffering, but my confidence in Christ never wavered as I assured my family "God's got this!"  Even when things seemingly went wrong, God made the crooked path straight.  The results of one of my tests were sent to the wrong person, but because that happened – a theretofore undiagnosed infection was found and is being treated.
The Apostles sang songs and hymns while chained in unimaginable conditions in prisons.  The Apostle Paul wrote his letter to the Philippians while a prisoner in Nero's prison and yet that epistle from beginning to end repeats the admonitions to rejoice and to be filled with joy.
Let there be no doubt, I was a sick pup as the saying goes; but, I was never discouraged nor cast down.  I could not have felt that way without Christ.  I know that there are countless numbers of people much worse off than that from which I'm now recovering.  But, that's not the point.  There will always be those worse off than we at any given moment.  What matters is do we view these seasons as opportunities to be used by God in a way that we otherwise would not.
Words fail to convey the joy I've experienced during this season of illness.  Some of you reading this know of what I speak when I reference giving thanks, rejoicing and joy in the midst of adversity.  Those who do also know the m0re we give thanks with a joyful heart the more the adversity lessens.
It's pleasing to God when we trust Him with every aspect of our lives including and perhaps especially with our health and/or finances.  True Christians should give thanks going through adversity, because we have the promise of our Father God in heaven from Hebrews 13:5-6 KJV.
What victory can we show the world if we behave more poorly than they do when adversity rears its' head?  How can we expect to grow and mature as the Children of God, if we resent suffering?
It may seem hard to understand, but as Jesus said, our Father in heaven sendeth the rain on the just and the unjust, it's up to us to allow Him to mature, strengthen, and use us to His glory during those seasons of travail.  I'm here reminded of the old hymn:
Praise God, from whom all blessings flow;
Praise Him, all creatures here below;
Praise Him above, ye heav'nly host;
Praise Father, Son, and Holy Ghost!
Praise God the Father who's the source;
Praise God the Son who is the course;
Praise God the Spirit who's the flow;
Praise God, our portion here below!
READ:
1 Thessalonians 5:16-18 KJV
16 Rejoice evermore.
17 Pray without ceasing.
18 In every thing give thanks: for this is the will of God in Christ Jesus concerning you.
Philippians 4:4-9 KJV
4 Rejoice in the Lord always: and again I say, Rejoice.
5 Let your moderation be known unto all men. The Lord is at hand.
6 Be careful for nothing; but in every thing by prayer and supplication with thanksgiving let your requests be made known unto God.
7 And the peace of God, which passeth all understanding, shall keep your hearts and minds through Christ Jesus.
8 Finally, brethren, whatsoever things are true, whatsoever things are honest, whatsoever things are just, whatsoever things are pure, whatsoever things are lovely, whatsoever things are of good report; if there be any virtue, and if there be any praise, think on these things.
9 Those things, which ye have both learned, and received, and heard, and seen in me, do: and the God of peace shall be with you.
About the Author
Mychal S. Massie is an ordained minister who spent 13 years in full-time Christian Ministry. Today he serves as founder and Chairman of the Racial Policy Center (RPC), a think tank he officially founded in September 2015. RPC advocates for a colorblind society. He was founder and president of the non-profit "In His Name Ministries." He is the former National Chairman of a conservative Capitol Hill think tank; and a former member of the think tank National Center for Public Policy Research. Read entire bio here