Praying For The Wayward Child – Sunday Thought For The Day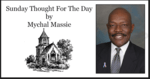 We live in a fallen world. Accordingly, no matter how hard truly Christian families may try, there are those families who suffer the pain of seeing a child grow up rebellious and go astray. To those families I say, no matter how dim the prospects may appear never stop praying for that prodigal child to turn to God.
It may seem like that child will never repent and turn from their wayward ways and invite Christ into their life. That does not mean we are to condone their sin, it means never stop loving them and petitioning God to show them their need for Christ for salvation. As we are assured in scripture: "…the effectual, fervent prayer of a righteous man availeth much." (James 5:16 KJV)
Never compromise your walk with Christ. If a Christian family's child goes astray despite being raised in a truly Christ centered home, we have the opportunity to see God work.
But, as we pray and and petition God our Savior to save our child from their rebellious ways, we must do so in faith believing, never allowing ourselves to think God has abandoned them. Many times in such instances the child must hit rock bottom, before they come to the place of confessing their need for Christ.
That rock bottom may be the devastating effect of HIV, imprisonment or lost of their family if they are married. It may take a life threatening event. The Holy Spirit may convict them by showing them the emptiness of a life lived without Christ. It may happen in a way or ways we cannot begin to imagine, but if we truly trust God it will happen. It may be that we will not know until we get to heaven and see them there.
In situations like this, if we truly commit the wayward child to God, through the faithful prayer of a righteous family, God will hear and He will answer.
But, I am equally as convinced that our lives must be right with God. We must be willing to let God work in our lives and bring us into conformity with Christ. If we have been slack and loved the world more than God our prayers will be weak and ineffectual. If we have raised our children in a home where God is not first before all things and/or showing them that worldly activities are more important than church, then we have contributed to their disobedience. If we have raised them without discipline and absolutes then we have helped steer them off course.
Strong, Christ centered homes with families that are obedient to God may not keep our children from going astray, but said will instill in our children the understanding that Christ is the only way to life.
READ: James 1:22-25 (KJV)
22 But be ye doers of the word, and not hearers only, deceiving your own selves.
23 For if any be a hearer of the word, and not a doer, he is like unto a man beholding his natural face in a glass:
24 For he beholdeth himself, and goeth his way, and straightway forgetteth what manner of man he was.
25 But whoso looketh into the perfect law of liberty, and continueth therein, he being not a forgetful hearer, but a doer of the work, this man shall be blessed in his deed.
About the Author
Mychal S. Massie is an ordained minister who spent 13 years in full-time Christian Ministry. Today he serves as founder and Chairman of the Racial Policy Center (RPC), a think tank he officially founded in September 2015. RPC advocates for a colorblind society. He was founder and president of the non-profit "In His Name Ministries." He is the former National Chairman of a conservative Capitol Hill think tank; and a former member of the think tank National Center for Public Policy Research. Read entire bio here