Putting Kobe Bryant's Death Into Perspective – Sunday Thought For The Day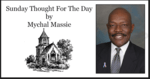 This past week the deaths of Kobe Bryant and his daughter have dominated every aspect of the sports news, news and every sport played both professionally and amateur. The death of Bryant, his daughter and the seven others who also died in the helicopter crash was horribly tragic. Believe me, I'm in no way attempting to marginalize these horrific deaths nor the sense of pain and loss their families and friends are experiencing.
But, what I've found to be more tragic is the absence of references I have read or heard, that made mention of Bryant being a Christian man. I personally have neither read nor heard a single reference made, that had anything to do with Kobe Bryant being a Christian man who had used his great wealth and fame to further God's Kingdom. I didn't hear or read of one person who came forward saying that Kobe Bryant had shared Christ with them and that they accepted the Lord as a result of his sharing.
To be fair, I'm not a fan of basketball. I stopped watching professional basketball when the Chicago Bulls concluded their second three-peat. But that's not the point of my "thought for today." The point of my "thought for today" is how Christians should want to be remembered.
When I die, I do not want to be remembered and eulogized as a political activist or an award winning writer and orator. I want at the very least one person(s) to say that they are a Christian and that they will see me in heaven when they pass, because I had taken time to share Jesus Christ with them when I was alive. When I die, I want my legacy to be what I did for Jesus Christ when I was alive.
I want my legacy to be that I was an unrepentant sinner going to hell, until the afternoon that I accepted Jesus Christ into my life. I want my legacy to be that as a Christian you may stumble, but because of God's matchless grace prodigal children can be restored.
As Christians we can use Bryant's passing to tell the unsaved that no matter how much money you have, no matter how much fame, prestige and power a person has, they cannot control the moment of their death. But they can decide, i.e., control – where they spend eternity.
The single most important understanding we can have in our lives, is that we do not know when we will die, but we do know that our existence doesn't end when we die on earth. When we die on earth, our eternal existence begins and continues for all of forever. It is up to us whether we spend it in hell or with God in heaven. There is no middle ground; there are no other options.
I'm in no way being dispassionate or insensitive when I say, that as Christians instead of getting caught up in the worldly remembrances and celebrations for Kobe Bryant, we should use his passing to reach the unsaved for Christ.
My prayer to God is and has been, that the tragic deaths of those who died in that helicopter crash last Sunday morning, will be used to lead at least one unsaved person to Christ.
READ: 2 Timothy 4:1-5 (KJV)
4 I charge thee therefore before God, and the Lord Jesus Christ, who shall judge the quick and the dead at his appearing and his kingdom;
2 Preach the word; be instant in season, out of season; reprove, rebuke, exhort with all long suffering and doctrine.
3 For the time will come when they will not endure sound doctrine; but after their own lusts shall they heap to themselves teachers, having itching ears;
4 And they shall turn away their ears from the truth, and shall be turned unto fables.
5 But watch thou in all things, endure afflictions, do the work of an evangelist, make full proof of thy ministry.
About the Author
Mychal S. Massie is an ordained minister who spent 13 years in full-time Christian Ministry. Today he serves as founder and Chairman of the Racial Policy Center (RPC), a think tank he officially founded in September 2015. RPC advocates for a colorblind society. He was founder and president of the non-profit "In His Name Ministries." He is the former National Chairman of a conservative Capitol Hill think tank; and a former member of the think tank National Center for Public Policy Research. Read entire bio here