Reading My Bible Is Not Enough; I Want More – Sunday Thought For The Day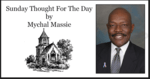 It's not enough for me to read, believe and understand the Word of God.  I want to have the intimate relationship with my Savior that comes only by knowing Him and the power of His resurrection.
When I sit down with my bible, I'm not reading a religious book; I'm reading and ingesting the Word of God, given by the inspiration of God to godly, spirit-filled men to write unto you and I.
When I sit down and open my bible, I do so with the anticipation of expectation resulting in the Holy Spirit revealing more of Christ to me.  Such is how I felt early yesterday morning when even before I had opened my bible, the Holy Spirit was communing with my spirit on Philippians 3:10 (KJV).
As I read and reread that verse in Philippians, and read the verses it was sandwiched in between, I felt a stirring in my spirit.  Thinking about "the power of His resurrection and the fellowship of His sufferings" moved me to want more of Jesus and an even closer relationship with Him.
As I sat reading and studying that verse word by word and part by part – it took on greater meaning.  Within me stirred an even greater desire to know my Savior on a deeper and more personal level.
Here is my point.  This did not start when I opened my bible yesterday morning.  It started when I accepted Christ as my Savior and experienced His life changing presence in my life.  It began the instant the Holy Spirit came upon me.  I will never forget that moment 40-years ago nor will I ever forget the change that took place in my life as I arose from my knees a new creature.
I experienced it through faith, because I believed.
I believed the Word of God and I wanted His Word to dwell in my mind, thoughts and being every day.
I don't read my bible to boast of reading it, but rather I read and study my bible to become more obedient to God and through His Word, to draw closer to my God and Savior.  Today, 40-years later, I have an even greater desire to be a servant of Christ according to my calling and spiritual gifts.
I am blessed to know that some of you reading this have the same desire.  You've shared this as we've become personal acquaintances and friends.  The Word of God dwells within you, but that which dwells within us must also be shared at every opportunity.
Sharing and teaching all men to observe all things whatsoever He has commanded us, is being obedient to Christ.  But to do that, we must believe every word of the bible and we must know Christ as our Savior.
READ:
Philippians 3:10-14 KJV
10 That I may know him, and the power of his resurrection, and the fellowship of his sufferings, being made conformable unto his death;
11 If by any means I might attain unto the resurrection of the dead.
12 Not as though I had already attained, either were already perfect: but I follow after, if that I may apprehend that for which also I am apprehended of Christ Jesus.
13 Brethren, I count not myself to have apprehended: but this one thing I do, forgetting those things which are behind, and reaching forth unto those things which are before,
14 I press toward the mark for the prize of the high calling of God in Christ Jesus.
About the Author
Mychal S. Massie is an ordained minister who spent 13 years in full-time Christian Ministry. Today he serves as founder and Chairman of the Racial Policy Center (RPC), a think tank he officially founded in September 2015. RPC advocates for a colorblind society. He was founder and president of the non-profit "In His Name Ministries." He is the former National Chairman of a conservative Capitol Hill think tank; and a former member of the think tank National Center for Public Policy Research. Read entire bio here