Rejecting Salvation, But Claiming To Pray – Sunday Thought For The Day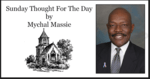 I believe in prayer.  I believe in the power of prayer.  I not only believe, but I know experientially that God answers prayers; because time and time again, time after time God has answered my personal prayers, the prayers of my family, friends and people I've met.  Our church is a church built and sustained by prayer.  We have a prayer ministry team who meet faithfully every week and who have committed to praying daily for those on the ministry prayer list.  The common denominator in every instance mentioned prior is: the people are truly saved and unwaveringly pray with the expectation and anticipation of their prayers being answered.  Including, the answer at times being no or not now.  No prayer to God is beyond His interest, willingness and/or ability to answer.  This brings me to today's thought.
Many times I've had persons tell me that they'll pray for me and/or claim to pray for themselves every night at bedtime.  I'm sure many of you have had people tell you the same.
The problem is who or what are they praying to?  I know people who are lest saved than a glass of water and yet they're quick to claim they'll be praying for me or someone else.  They've openly rejected salvation through Jesus Christ, in addition to relegating God and our Lord Christ Jesus to nothing more than curse words in their daily lives.  They glibly claim they'll be praying for someone else, but they've rejected our God in heaven who answers prayer.
If a person has consciously rejected Christ for salvation – then whatever or whoever it is they're claiming they pray to, amounts to little more than wasted time and energy.
Some judge themselves by their own standards and conclude, wrongly I might add, that they're just fine with God.  They ignore that Satan knows God on a face-to-face basis and he's doomed to the lake of fire and brimstone when this world ends.  A person is either a child of God or the child of the devil.
I tell you with heavy heart, that it sickens me, when someone I know who has consciously rejected Christ claims they'll pray for me; because if they refuse to pray for themselves to be saved, how on earth can they pray for me in my hour of need?  They have no testimony of answered prayers.  They curse God and live their lives in total disobedience to Him, and expect us to believe them when they say they'll be praying for us?
The Word of God says: "But without faith it is impossible to please him: for he that cometh to God must believe that he is, and that he is a rewarder of them that diligently seek him." (Hebrews 11:6 KJV)  Note the caveat in this verse.  He that cometh to God must believe and is rewarded through diligent seeking.
If a person isn't saved they're in an adversarial relationship with God.  That means they're in conflict, even at war with God.  It's foolish hubris to think otherwise.  Let prayer first begin unto repentance, before we claim to pray for another.  After all, how can we in faith believing, pray for others when we don't believe enough to accept God's free gift of salvation through Jesus Christ for ourself?
READ:
James 4:1-17 KJV
1 From whence come wars and fightings among you? come they not hence, even of your lusts that war in your members?
2 Ye lust, and have not: ye kill, and desire to have, and cannot obtain: ye fight and war, yet ye have not, because ye ask not.
3 Ye ask, and receive not, because ye ask amiss, that ye may consume it upon your lusts.
4 Ye adulterers and adulteresses, know ye not that the friendship of the world is enmity with God? whosoever therefore will be a friend of the world is the enemy of God.
5 Do ye think that the scripture saith in vain, The spirit that dwelleth in us lusteth to envy?
6 But he giveth more grace. Wherefore he saith, God resisteth the proud, but giveth grace unto the humble.
7 Submit yourselves therefore to God. Resist the devil, and he will flee from you.
8 Draw nigh to God, and he will draw nigh to you. Cleanse your hands, ye sinners; and purify your hearts, ye double minded.
9 Be afflicted, and mourn, and weep: let your laughter be turned to mourning, and your joy to heaviness.
10 Humble yourselves in the sight of the Lord, and he shall lift you up.
11 Speak not evil one of another, brethren. He that speaketh evil of his brother, and judgeth his brother, speaketh evil of the law, and judgeth the law: but if thou judge the law, thou art not a doer of the law, but a judge.
12 There is one lawgiver, who is able to save and to destroy: who art thou that judgest another?
13 Go to now, ye that say, To day or to morrow we will go into such a city, and continue there a year, and buy and sell, and get gain:
14 Whereas ye know not what shall be on the morrow. For what is your life? It is even a vapour, that appeareth for a little time, and then vanisheth away.
15 For that ye ought to say, If the Lord will, we shall live, and do this, or that.
16 But now ye rejoice in your boastings: all such rejoicing is evil.
17 Therefore to him that knoweth to do good, and doeth it not, to him it is sin.
About the Author
Mychal S. Massie is an ordained minister who spent 13 years in full-time Christian Ministry. Today he serves as founder and Chairman of the Racial Policy Center (RPC), a think tank he officially founded in September 2015. RPC advocates for a colorblind society. He was founder and president of the non-profit "In His Name Ministries." He is the former National Chairman of a conservative Capitol Hill think tank; and a former member of the think tank National Center for Public Policy Research. Read entire bio here