Rewards In Glory – Sunday Thought For The Day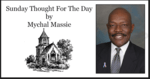 In 1 Corinthians 3:13-14, the Apostle Paul referencing vv. 9-12 of the same chapter, writes: "13 Every man's work shall be made manifest: for the day shall declare it, because it shall be revealed by fire; and the fire shall try every man's work of what sort it is. 14 If any man's work abide which he hath built thereupon, he shall receive a reward." (KJV)
C.I. Scofield notes: "God, in the N.T. Scriptures, offers to the lost, salvation; and for the faithful service of the saved, He offers rewards."   The passages pertaining to both salvation and rewards are easily distinguished remembering that salvation is invariably spoken of as a free gift as we read in Ephesians 2:8-9 (KJV): "8 For by grace are ye saved through faith; and that not of yourselves: it is the gift of God: 9 Not of works, lest any man should boast.  Whereas rewards are earned by works.  A further distinction is that salvation is a present possession as we read in John 3:36; i.e., everlasting life is not only a future hope, but the present possession of everyone who believes on Christ: "He that believeth on the Son hath everlasting life: and he that believeth not the Son shall not see life; but the wrath of God abideth on him." (KJV)  Rewards, however, are a future attainment, to be given for the faithfulness of the saved at the Judgement Seat of Christ.
The N.T. identifies these rewards as Crowns and there are five different heavenly rewards or Crowns:
The first thing to note is the Crown in 1 Corinthians 9:25, Paul identifies as The Crown Incorruptible.  Unlike the crown an athlete strives to attain that can be marred and even destroyed, i.e., corrupted, our Crown of reward is Incorruptible: And every man that striveth for the mastery is temperate in all things. Now they do it to obtain a corruptible crown; but we an Incorruptible. (KJB)
The second reward Paul identifies is The Crown of Rejoicing in 1 Thessalonians 2:19: For what is our hope, or joy, or Crown of Rejoicing? Are not even ye in the presence of our Loresus Christ at his coming? (KJV)
The third reward Paul identifies is in his poignant resignation in the final moments of his earthly life, 2 Timothy 4:8: Henceforth there is laid up for me a Crown of Righteousness, which the Lord, the righteous judge, shall give me at that day: and not to me only, but unto all them also that love his appearing. (KJV)
The fourth reward is recorded by James, the brother of our Lord and Savior Christ Jesus, in 1:12 of his Epistle: "Blessed is the man that endureth temptation: for when he is tried, he shall receive The Crown of Life, which the Lord hath promised to them that love him." (KJV)
And, the fifth reward identified by the Apostle Peter in 5:4 of his Epistle: "And when the chief Shepherd shall appear, ye shall receive a Crown of Glory that fadeth not away." (KJV)
The message of today's devotion is, that accepting the Lord unto salvation is necessary for us to be saved, but there is more to our life in Christ than just being saved.  We are to be faithful laborers, for our faithfulness in labor will be evaluated and rewarded when we stand before the Judgement Seat of Christ.  As Paul wrote in 1 Corinthians 3: 9 For we are labourers together with God: ye are God's husbandry, ye are God's building. 10 According to the grace of God which is given unto me, as a wise masterbuilder, I have laid the foundation, and another buildeth thereon. But let every man take heed how he buildeth thereupon. 11 For other foundation can no man lay than that is laid, which is Jesus Christ. 12 Now if any man build upon this foundation gold, silver, precious stones, wood, hay, stubble; 13Every man's work shall be made manifest: for the day shall declare it, because it shall be revealed by fire; and the fire shall try every man's work of what sort it is. 14 If any man's work abide which he hath built thereupon, he shall receive a reward. (KJV)
Christians should be as committed to Spirit-filled lives of faithful service, as we were to living lives of sin before we accepted Christ as our Savior.  It's incongruous to me that we could claim to be Christians and yet be more concerned about earthly recognition than heavenly reward.
About the Author
Mychal S. Massie is an ordained minister who spent 13 years in full-time Christian Ministry. Today he serves as founder and Chairman of the Racial Policy Center (RPC), a think tank he officially founded in September 2015. RPC advocates for a colorblind society. He was founder and president of the non-profit "In His Name Ministries." He is the former National Chairman of a conservative Capitol Hill think tank; and a former member of the think tank National Center for Public Policy Research. Read entire bio here