Saying Thank You When The Answer Is No – Sunday Thought For The Day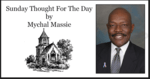 Do you thank God when He says no to something we are praying for or when He has us wait to see our prayers answered? It could be for anything from the job we thought was perfect for us to our not being healed of an illness.
Being able to thank God for knowing what is best for us in every situation, need, and want is reflective of how mature we are as Christians. It is important to remember that it's one thing to say we believe in God; it is a sign of spiritual maturity to understand and embrace the fact that God knows what is best for us.
There were times when I was growing up that I would ask my mother for something and she would say no or not now. She didn't say no or not now because she was mean and/or insensitive; she said no or not now because she knew what was best for me.
The principle thing we must come to realize about God, is the reason we pray in Jesus name that His will be done. It's because His will is always best for us. We cannot see the outcome of our desires if granted carte blanche, but God can.
When we can say thank you Lord for teaching me patience through waiting or thank you for growing my faith by having me wait or for protecting us from a bad outcome by saying no to us even though in the immediate we do not see it as such, we are humbling ourselves to His perfect will for us.
We also come to realize that God doesn't work in a vacuum. Scripture tells us He is working in us as we wait, and often at the same time He is making us testimonies of His grace for others to see.
If we truly believe God is our Heavenly Father, then we must also believe that He not only knows what is best for us, but He wants us to experience the best. This is why we are instructed to: "Be anxious for nothing, but in everything, by prayer and supplication with thanksgiving, let your requests be made known unto God. And the peace of God, which passeth all understanding, shall keep your hearts and minds through Christ Jesus." (Philippians 4:6-7 KJV)
This is the confidence that mature Christians have in God our Heavenly Father.
READ: Isaiah 55:8-11 (KJV)
8 For my thoughts are not your thoughts, neither are your ways my ways, saith the Lord.
9 For as the heavens are higher than the earth, so are my ways higher than your ways, and my thoughts than your thoughts.
10 For as the rain cometh down, and the snow from heaven, and returneth not thither, but watereth the earth, and maketh it bring forth and bud, that it may give seed to the sower, and bread to the eater:
11 So shall my word be that goeth forth out of my mouth: it shall not return unto me void, but it shall accomplish that which I please, and it shall prosper in the thing whereto I sent it.
About the Author
Mychal S. Massie is an ordained minister who spent 13 years in full-time Christian Ministry. Today he serves as founder and Chairman of the Racial Policy Center (RPC), a think tank he officially founded in September 2015. RPC advocates for a colorblind society. He was founder and president of the non-profit "In His Name Ministries." He is the former National Chairman of a conservative Capitol Hill think tank; and a former member of the think tank National Center for Public Policy Research. Read entire bio here