All Sin Is Ugly When Revealed – Sunday Thought For The Day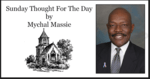 I recently wrote an op-ed in which I graphically detailed the inhumane treatment that has been secretly practiced upon Islamic women. In response to said column, a friend and brother in Christ wrote me: "The first part of your [article] was painful to read but then the truth can be painful."
His comment was a powerful observation about sin. As long as sin is never called by its true name and never presented in its true appearance, the raw ugliness of the act is obscured. And as long as the true ugliness of the sin is concealed, the sin is viewed as acceptable not only by the unsaved, but tragically many who claim to be saved as well.
I am confident that the overwhelming majority of people who are accepting of homosexuality have never considered the raw ugliness of that sin. They view homosexuality as two people in a relationship that is the same as a loving relationship between a man and woman. It is not. It is a disease driven sexual practice that promotes and encourages gratification that would make most people ill if they truly reasoned the baseness of such intimacy. It is only the sin driven nature that would allow a person to believe such depravity is normal and loving.
The murder of unborn children is acceptable as long as the specifics of how the children are murdered is obscured by references such as "women's reproductive health." Few people stop to ask the question: How does murdering an unborn child equate with a "woman's reproductive health?"
The clever trick most often employed by Satan, is to place the focus on the individual juxtaposed to the sinful act. Focus upon the individual(s) directs disapproval toward the person and that becomes personal, where as keeping the focus upon the sin itself places attention right where God wants it.
That is exactly what the serpent did to Eve. It had her focus on the beauty, i.e., physical appearance of the object as opposed to God's command. If men and women treated their bodies as the temple of God, the murder of children would not be casually called a "choice." (See: 1 Corinthians 6:19 KJV)
Homosexuality, doesn't stop with abnormal sexual practices between two men or between two women. Sin consumes, and like fire needs oxygen to burn; aberrant sexual practices must become more and more extreme in order to temporarily satisfy. Hence the evolvement of aberrant sexual practices, into the disfiguring of one's body in the foolish attempt to change what we were born.
It is not until we see sin as God sees it, that we can begin to abhor sinful acts and practices in our lives and in the world. But that cannot happen until we receive God the Holy Spirit, which we cannot do until and unless we accept Jesus Christ as our Savior.
READ: 1 Corinthians 6:13-20 (KJV)
13 Meats for the belly, and the belly for meats: but God shall destroy both it and them. Now the body is not for fornication, but for the Lord; and the Lord for the body.
14 And God hath both raised up the Lord, and will also raise up us by his own power.
15 Know ye not that your bodies are the members of Christ? shall I then take the members of Christ, and make them the members of an harlot? God forbid.
16 What? know ye not that he which is joined to an harlot is one body? for two, saith he, shall be one flesh.
17 But he that is joined unto the Lord is one spirit.
18 Flee fornication. Every sin that a man doeth is without the body; but he that committeth fornication sinneth against his own body.
19 What? know ye not that your body is the temple of the Holy Ghost which is in you, which ye have of God, and ye are not your own?
20 For ye are bought with a price: therefore glorify God in your body, and in your spirit, which are God's.
About the Author
Mychal S. Massie is an ordained minister who spent 13 years in full-time Christian Ministry. Today he serves as founder and Chairman of the Racial Policy Center (RPC), a think tank he officially founded in September 2015. RPC advocates for a colorblind society. He was founder and president of the non-profit "In His Name Ministries." He is the former National Chairman of a conservative Capitol Hill think tank; and a former member of the think tank National Center for Public Policy Research. Read entire bio here