Situational Ethics Aren't Godly Ethics – Sunday Thought For The Day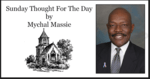 We live in a world in which proper, i.e., acceptable behavior is most often based upon situation ethics. The mantra we hear in association with acceptable behavior is that if what we are doing doesn't hurt anyone, it is perfectly acceptable. The other half of that mentality is that if a behavior is between two consenting adults it is oaky.
The problem with the aforementioned mentality is that it is sinful man seeking to establish our own form of righteousness. Man's ideas of righteousness are not consistent with the righteousness that God accepts.
Sinful, fallen man cannot establish our own righteousness. According to situational ethics it is okay to lie, cheat, steal, covet, hate, seek revenge, and so on, based upon the perceived situational "right" of the individual. That is not what God says in the bible.
The right to engage in ungodly behavior because said behavior is deemed to be between consenting adults or because said behavior presumably doesn't hurt anyone is not consistent with the Word of God.
God's word is not only immutable, it is unchanging from everlasting to everlasting. Righteous living is not based upon what we think; it is based upon being obedient to the Word of God. In order for that to happen we must know the Word of God, and we must submit ourselves to His will and the leading of the Holy Spirit. We cannot do this if we do not read and study the Word of God. It doesn't happen if we do not attend a bible preaching, Christ-centered church pastored by a Godly man committed to God's word.
At the end of the day, it doesn't matter what we think, it matters what the Word of God says. God's word is absolute. God doesn't accept sinful, disobedient behavior because in the moment we find it acceptable.
READ: Romans 10:3-13 (KJV)
3 For they being ignorant of God's righteousness, and going about to establish their own righteousness, have not submitted themselves unto the righteousness of God.
4 For Christ is the end of the law for righteousness to every one that believeth.
5 For Moses describeth the righteousness which is of the law, That the man which doeth those things shall live by them.
6 But the righteousness which is of faith speaketh on this wise, Say not in thine heart, Who shall ascend into heaven? (that is, to bring Christ down from above:)
7 Or, Who shall descend into the deep? (that is, to bring up Christ again from the dead.)
8 But what saith it? The word is nigh thee, even in thy mouth, and in thy heart: that is, the word of faith, which we preach;
9 That if thou shalt confess with thy mouth the Lord Jesus, and shalt believe in thine heart that God hath raised him from the dead, thou shalt be saved.
10 For with the heart man believeth unto righteousness; and with the mouth confession is made unto salvation.
11 For the scripture saith, Whosoever believeth on him shall not be ashamed.
12 For there is no difference between the Jew and the Greek: for the same Lord over all is rich unto all that call upon him.
13 For whosoever shall call upon the name of the Lord shall be saved.
About the Author
Mychal S. Massie is an ordained minister who spent 13 years in full-time Christian Ministry. Today he serves as founder and Chairman of the Racial Policy Center (RPC), a think tank he officially founded in September 2015. RPC advocates for a colorblind society. He was founder and president of the non-profit "In His Name Ministries." He is the former National Chairman of a conservative Capitol Hill think tank; and a former member of the think tank National Center for Public Policy Research. Read entire bio here