Strength For Today and Hope For Tomorrow by Robert Socha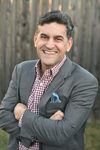 Today is the day, May 9. It can be that for you too.
Seven years ago, I posted this on my social media:
"23 years ago today, I received the greatest gift. I was saved by grace through faith, that with my mouth I confess Jesus the Christ, and in my heart, I believe God raised Him from the dead. Because of this, I now have a blessed assurance and unsurpassed hope as a sure and steadfast anchor for my soul. Thank you to <name>, Brandon Full Gospel Church (The Harvest Centre), <name> (Pastor Ken), CFNI (https://cfni.org/), my beautiful <wife>, our children, and the plethora of people, family, and friends (if only I could tag you all), who have stood by me through thick and thin from California, my Air Force days, Gateway Church and now the Hillsdale UbChurch.  Strength for today, bright hope for tomorrow…"
Hope.
The writer of Hebrews, I believe Luke, wrote this in chapter 6, verse 19 (Amplified Bible): "This hope [this confident assurance] we have as an anchor of the soul [it cannot slip and it cannot break down under whatever pressure bears upon it]—a safe and steadfast hope that enters within the veil [of the heavenly temple, that most Holy Place in which the very presence of God dwells],"
Strength for today and hope for tomorrow.
The world appears hopeless—the constant churn demonizing the creation of these United States. Three years ago, I wrote about the Birth of our Nation and the Birth of a Man. The testimony still rings true today!
Tumult and anxiety wear down the souls of men while they attempt to navigate the world's troubled systems and governance. The Lord Himself warned us of having trouble in the world. But we are to take heart because He has overcome it.
Remember, now is the accepted time. Today is the day of salvation. Therefore, let us enter that holy place and find rest for our weary souls. The lifter of heads is ready and willing to take a penitent man and restore his joy and nature to reflect Christ and confess the Kingdom of God.
The peace that passes all understanding is available to guard our hearts and minds. We must trust and believe that He is, and He is a rewarder of those who diligently seek Him.
About the Author
Robert Socha, BIO Robert Socha (so-ha), was born in southern California. He served 5 years 3 months active duty in the United States Air Force; honorably. After his service he took an Associate's Degree in Practical Theology, where, through his studies, developed a deep love of God and Country and sincere appreciation of the value of Liberty. Robert and his beloved wife of 21-plus years are raising 4 beautiful Texan children. They moved to Hillsdale, Michigan, in 2013, to put their children in Hillsdale Academy. Robert is a sales professional. He and his wife consider Michigan a hidden gem, and absolutely love this city and state (current political environment notwithstanding) they've adopted.