Take Note of The Hour – Sunday Thought For The Day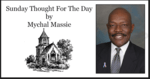 We are living in gospel age and blessed are we to live now.  We have mercy, grace, and the Holy Spirit. We are in that great period of time before our Lord's second coming, which will be to gather His own unto Himself in the air, which is the Rapture.
But, it is the blind and and apostate who do not take note of the hour in this period of time.  When Jesus returns to gather His own, He said the culture would be as it was in the days of Noah.
In  this period of time today, the culture is by any understanding and definition is just as in the period of time of Noah as he built the Ark.  "As then they were eating and drinking, marrying and giving in marriage, till they were surprised by the flood, notwithstanding the frequent warnings and admonitions of that preacher of righteousness: so now, they shall be engaged in the business and pleasures of the world, little expecting, little thinking of this universal ruin, till it come upon them, notwithstanding the express predictions and declarations of Christ and his apostles." (Benson Commentary)
I am compelled to remind again that we are standing at the intersection of eternity and the Great Tribulation, and the clock on the wall of prophecy says it is half-past almost too late.
People are making excuse after excuse; people are stubbornly dismissing the warning(s) of Christ Himself in vain attempts to save animals, nature, and to save America.  But that is blasphemous because just as the world was destroyed during 'the flood' even so the world as we know it, and that most certainly includes America cannot and will not be saved lest God be a liar.
As in the Days of Noah people are consumed with self interest, making gain, and the lustful pleasures of this world.  Disagree with me if you will.  In fact, I challenge people to disagree.  Because, the truth is as plain as day for those who believe the Word of God in truth.
READ:
John 14:1-6 KJV
1 Let not your heart be troubled: ye believe in God, believe also in me.
2 In my Father's house are many mansions: if it were not so, I would have told you. I go to prepare a place for you.
3 And if I go and prepare a place for you, I will come again, and receive you unto myself; that where I am, there ye may be also.
4 And whither I go ye know, and the way ye know.
5 Thomas saith unto him, Lord, we know not whither thou goest; and how can we know the way?
6 Jesus saith unto him, I am the way, the truth, and the life: no man cometh unto the Father, but by me.
About the Author
Mychal S. Massie is an ordained minister who spent 13 years in full-time Christian Ministry. Today he serves as founder and Chairman of the Racial Policy Center (RPC), a think tank he officially founded in September 2015. RPC advocates for a colorblind society. He was founder and president of the non-profit "In His Name Ministries." He is the former National Chairman of a conservative Capitol Hill think tank; and a former member of the think tank National Center for Public Policy Research. Read entire bio here