Teaching Heaven or Preaching Hell – The Sunday Thought For The Day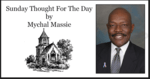 Recently I received an email advertising about a 5-part series on heaven.  It's being called a "Summer Soul Refresher."  It included attention grabbing phrases such as are commonplace today: Is it a literal place; is it a kind of dream; what will we look like; what will we do there; will there be literal mansions?
Herein lies a major problem, if not the problem in Christendom today.  In the zeitgeist of debauchery and disobedience in which we live today, we need preachers and teachers to preach and teach on hell more than we need them to give flowery feel-good messages about heaven.
We don't need more messages about heaven, we need more messages about hell and how not to go there.  Spending the preponderance of time preaching and teaching about heaven means nothing and accomplishes nothing, if we do not have a proper understanding of the reality of hell.  How many people attend churches where sermons are preached about sin, hell and damnation?  How many attend churches where the minister preaches about the blood of Christ?
Flowery so-called sermons about heaven may pack the pews and fill the offering plates; they may arouse warm, fuzzy, feelings and a false sense of security, but that does nothing to bring persons to the jarring reality of hell.
Therein, I argue, lies the disqualifier for many who subscribe to the errant teaching of predestination as an assured outcome.  Ultimately, predestination as a theology requires very little critical self-examination.  But I digress; this isn't about predestination, it's about the message of heaven and hell.  It's about being Godly, obedient, faithful, strong Christians, who desire to live righteous lives in Christ by the power of the Holy Spirit.
John Wesley, D.L. Moody, Charles Spurgeon, Billy Sunday, J. Vernon McGee, and every pastoral shepherd of God in days not long past preached sin, hell and the blood of Christ, which was shed to cleanse us from our sin: that specifically includes the writers of the bible.  Has the message of truth, light, walking in Christ and resisting the devil changed since the authors of the bible?  Has the message of God changed since C. S. Lewis  and John Bunyan?  I think not!!
We must first realize what wretched individuals we are and that cover-your-backside with fanciful talk about heaven is not consistent with salvation.  We cannot be saved unless and/or until we first realize and embrace our need for repentance.
I don't spend a lot of time fantasizing about what heaven will be like, but I spend time thinking about what I will be found doing should the Lord return in my lifetime.  I know that heaven will be glorious beyond my ability to fully appreciate or comprehend standing here on earth.
In many churches today people do not want the unwavering "Truth."  They want to feel good about themselves.  I submit, we cannot feel good about ourselves without first being abhorred with ourself.
We need those who stand in the pulpit to realize the great weight of responsibility to be "Truth-tellers and to make sure they're preaching and teaching the true word of God.  Tragically, there are many well intentioned men of God today, who are not accurately preaching and teaching the Word of God.  The unfortunate thing is that some of them honestly mean well; but, they're victims of shoddy exegesis.
There are more scriptural verses about hell than there are about heaven.  In Deuteronomy 28 the blessings section are verses 1-14; while the cursing section is 28:15-68 (KJV).  Note the difference in number.
Telling people about heaven isn't synonymous with telling them about fallen man.  When we witness, i.e., share our faith, we share the need for repentance, the redemptive work of Christ on the cross and what He is doing in our lives.  We cannot factually preach heaven to the unsaved and/or the carnal-Christians unless we're preaching the penalty of sin and the assured reality of hell first.
READ:
Ezekiel 18:20-23 (King James Version)
20 The soul that sinneth, it shall die. The son shall not bear the iniquity of the father, neither shall the father bear the iniquity of the son: the righteousness of the righteous shall be upon him, and the wickedness of the wicked shall be upon him.
21 But if the wicked will turn from all his sins that he hath committed, and keep all my statutes, and do that which is lawful and right, he shall surely live, he shall not die.
22 All his transgressions that he hath committed, they shall not be mentioned unto him: in his righteousness that he hath done he shall live.
23 Have I any pleasure at all that the wicked should die? saith the Lord God: and not that he should return from his ways, and live?
About the Author
Mychal S. Massie is an ordained minister who spent 13 years in full-time Christian Ministry. Today he serves as founder and Chairman of the Racial Policy Center (RPC), a think tank he officially founded in September 2015. RPC advocates for a colorblind society. He was founder and president of the non-profit "In His Name Ministries." He is the former National Chairman of a conservative Capitol Hill think tank; and a former member of the think tank National Center for Public Policy Research. Read entire bio here