The Bible Doesn't Say That – Sunday Thought For The Day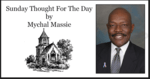 God willing, and if the days numbered as my life, permit; this year I purpose to use the 'Sunday Thought For The Day' to expose lies that Satan uses to lead people away from the truth of God's Word, and that specifically includes those who profess to be Christians.
It's commonplace to hear people say that God must weep for what's happened to world and specifically America.  The problem with those who say such, is that they're either biblically ignorant or biblical atheists.  The biblically ignorant are those who do not know what the bible says beyond a few oft voiced verses, e.g., "for God so loved the world…" blah-blah-blah.  The biblical atheist as I define the person, knows parts of the bible, but either consciously or unconsciously doesn't believe that part of the Word of God.  Two common examples are those who decide what prayers God will and will not answer when it comes to healing and/or salvation and those who decide Hebrews 10:25 KJV doesn't mean them.
The tragedy is that both the biblically ignorant and the biblical atheist have infected Christendom with the deadly virus of unbelief.  As the Apostle Paul wrote: "They profess that they know God; but in works they deny him, being abominable, and disobedient, and unto every good work reprobate." (Titus 1:16 KJV)
A belief frequently voiced by many churchgoers today is they: "fear for the future of their children and/or grandchildren" because of the political and social environment that is a terminal state of decline.
The problem with that mindset?  It's wrongful thinking based upon either ignorance of God's Word or it is biblical atheism based upon consciously or unconsciously disbelieving God's Word.  In either case the outcome is the same.  They are tools of Satan to spread a "form of godliness, but they deny the power thereof." (2 Timothy 3:5 KJV) 
As Christians, we are concerned about the future of our children and grandchildren, which is why we must raise them "in the nurture and admonition of the Lord." (Ephesians 6:4 KJV)  Let us not just give lip service to being a Christian, let us live Christ.  Let us put on Christ and model Him. (Romans 13:14 KJV)
The great commission Christ gave to Christians begins first within our homes and then spreads outward and abroad.  There's no guarantee that our children and grandchildren will not at some point stray, but as in the case of the Prodigal Son, we continue to pray in faith, that God would have them repent and turn away from their sin.  And, we do not make peace with their disobedience.
God's Word is sacrosanct, immutable.  Ultimately, despite our best efforts our children can fall into sin.  But we can arm them against the wiles of Satan by ourselves committing to serve Christ and Him only.  We can ask God to provide sound Christian resources, e.g., people to aid in the support to our children when they stray.  We can stop investing in the world and start investing in biblically sound, Christ-centered Christian schools.  We can form small prayer cells and commit to praying daily and meeting weekly to pray for our children, especially those who are in danger of being led astray or who have gone wayward.  We can stop playing church and start living Christ.  We must believe God, and realize that Satan is committed and singularly driven to destroy us and our children, and he will gladly use false teachings and disbelief to do so.  We must put on the righteousness of God, not develop our own standard of righteousness based upon our sinful flesh.  (See: Ephesians 6:10-17 KJV)  We must cling to our faith in Christ, believing He will reach our wayward children.  I'm proof that God answers the prayers family and other believers lifted for wayward, disobedient children.
We must understand that the world is not going to get better.  It is going to get worse.  As Christians we are commissioned to teach all nations, baptize in the name of the Father, the Son, and the Holy Spirit, (and that is not baptismal regeneration).  We are to teach them to observe all the things that Christ commanded us, found in scripture. (See: Matthew 28: 18-20 KJV)
READ:
2 Timothy 3:1-7 KJV
1 This know also, that in the last days perilous times shall come.
2 For men shall be lovers of their own selves, covetous, boasters, proud, blasphemers, disobedient to parents, unthankful, unholy,
3 Without natural affection, trucebreakers, false accusers, incontinent, fierce, despisers of those that are good,
4 Traitors, heady, highminded, lovers of pleasures more than lovers of God;
5 Having a form of godliness, but denying the power thereof: from such turn away.
6 For of this sort are they which creep into houses, and lead captive silly women laden with sins, led away with divers lusts,
7 Ever learning, and never able to come to the knowledge of the truth.
8 Now as Jannes and Jambres withstood Moses, so do these also resist the truth: men of corrupt minds, reprobate concerning the faith.
9 But they shall proceed no further: for their folly shall be manifest unto all men, as their's also was.
10 But thou hast fully known my doctrine, manner of life, purpose, faith, longsuffering, charity, patience,
11 Persecutions, afflictions, which came unto me at Antioch, at Iconium, at Lystra; what persecutions I endured: but out of them all the Lord delivered me.
12 Yea, and all that will live godly in Christ Jesus shall suffer persecution.
13 But evil men and seducers shall wax worse and worse, deceiving, and being deceived.
14 But continue thou in the things which thou hast learned and hast been assured of, knowing of whom thou hast learned them;
15 And that from a child thou hast known the holy scriptures, which are able to make thee wise unto salvation through faith which is in Christ Jesus.
16 All scripture is given by inspiration of God, and is profitable for doctrine, for reproof, for correction, for instruction in righteousness:
17 That the man of God may be perfect, thoroughly furnished unto all good works.
About the Author
Mychal S. Massie is an ordained minister who spent 13 years in full-time Christian Ministry. Today he serves as founder and Chairman of the Racial Policy Center (RPC), a think tank he officially founded in September 2015. RPC advocates for a colorblind society. He was founder and president of the non-profit "In His Name Ministries." He is the former National Chairman of a conservative Capitol Hill think tank; and a former member of the think tank National Center for Public Policy Research. Read entire bio here