The Biblical Truth Many Overlook – Sunday Thought For The Day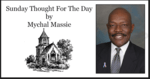 There is biblical truth that many people who say they are Christians overlook.  That simple truth is, we cannot serve God in public if we are not serving God in our homes.
Serving God is not a matter of participating in socially feel-good community outreach, which in many instances is nothing more than feigned piety and showmanship staged for the approval of self. Serving God put as simply as possible, is living our lives to the best of or our ability in obedience to the Word of God.  Serving God is living our lives selflessly in Christ.
Old Testament piety was in no small part what Micah said: "He hath shewed thee, O man, what is good; and what doth the Lord require of thee, but to do justly, and to love mercy, and to walk humbly with thy God?" (Micah 6:8 KJV)  Pre-Christ obedience was about Old Testament Judaism and faith as the writer of Hebrews clearly states.  But, as Mark makes clear in his Gospel, Jesus said: "…The time is fulfilled, and the kingdom of God is at hand; repent, and believe the gospel." (Mark 1:15 KJV)  Are we living and sharing that message?
How often do we reflect per the Spirit-filled servants of God who first exampled Christ to the likes of John Wesley, Charles Wesley, D.L. Moody, Billy Sunday, Charles H. Spurgeon, and the many hymnists of old et al.  Someone was faithful in sharing the gospel with them in way that ignited the thirst for Christ and His Word in them.  Spirit-filled Godly parents and faithful servants of our Lord following after Matthew 28:18-20 KJV have produced faithful servants worldwide throughout time.
Thus, a principle act of obedience in our homes is to train up our children on the Word of God in application to our lives, not just a few memorized verses and/or a social gospel.
From Genesis to The Revelation, the bible tells us how we should live in obedience and service to our God.  If we do not live for Christ in our homes and every single facet associated with our lives in our homes, pretending to be Christ-minded in public is just that – pretending.
READ:
1 Corinthians 2:12-16 KJV
12 Now we have received, not the spirit of the world, but the spirit which is of God; that we might know the things that are freely given to us of God.
13 Which things also we speak, not in the words which man's wisdom teacheth, but which the Holy Ghost teacheth; comparing spiritual things with spiritual.
14 But the natural man receiveth not the things of the Spirit of God: for they are foolishness unto him: neither can he know them, because they are spiritually discerned.
15 But he that is spiritual judgeth all things, yet he himself is judged of no man.
16 For who hath known the mind of the Lord, that he may instruct him? but we have the mind of Christ.
About the Author
Mychal S. Massie is an ordained minister who spent 13 years in full-time Christian Ministry. Today he serves as founder and Chairman of the Racial Policy Center (RPC), a think tank he officially founded in September 2015. RPC advocates for a colorblind society. He was founder and president of the non-profit "In His Name Ministries." He is the former National Chairman of a conservative Capitol Hill think tank; and a former member of the think tank National Center for Public Policy Research. Read entire bio here