The Birth of The 'Promise' Fulfilled – Sunday Thought For The Day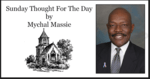 I celebrate Christmas as the "birth of the 'Promise' fulfilled." God made a promise in Genesis 3:15 (KJV) and that 'Promise' was fulfilled with the birth of our Lord. Notwithstanding Messianic Rabbi Jonathan Cahn's brilliant expose on "When Messiah Jesus Was Born," I believe that we do not know the exact day of His birth. That said, we could celebrate His birth January 19th, July 1st or August 30th.
It matters not what month and day we celebrate the birth of the 'Promise,' it matters that we celebrate His birth. I do not celebrate the day as such; I celebrate the "birth of the 'Promise' fulfilled" and like most Christians I celebrate it on December 25th.
However, consistent with that is the fact that we are to celebrate the Birth of Messiah Jesus every day of our life from the moment we accept Him as our Savior and Lord. We are to give Him thanks in all things. In essence, when we do that we are also saying "thank you Lord for being born."
Every day of our Christian life, if we are living in obedience to God, we give and exchange gifts. We do this by showing forth and sharing the attributes of Christ. We do it by praying for one another, by showing kindness to others, and so on. Those are gifts of love, good will, fellowship and concern for our brethren.
If we truly love the Lord, we give thanks to Him always that He was born to die that we may live. I am eternally thankful that one night long ago, the "Promise" of a Savior was fulfilled when that "Promise" was born – the day itself matters naught. If it did the scripture authors would have been guided by the Holy Spirit to tell us the day. That is something we should reflect upon.
Luke 2:6-20 (KJV)
6 And so it was, that, while they were there, the days were accomplished that she should be delivered.
7 And she brought forth her firstborn son, and wrapped him in swaddling clothes, and laid him in a manger; because there was no room for them in the inn.
8 And there were in the same country shepherds abiding in the field, keeping watch over their flock by night.
9 And, lo, the angel of the Lord came upon them, and the glory of the Lord shone round about them: and they were sore afraid.
10 And the angel said unto them, Fear not: for, behold, I bring you good tidings of great joy, which shall be to all people.
11 For unto you is born this day in the city of David a Saviour, which is Christ the Lord.
12 And this shall be a sign unto you; Ye shall find the babe wrapped in swaddling clothes, lying in a manger.
13 And suddenly there was with the angel a multitude of the heavenly host praising God, and saying,
14 Glory to God in the highest, and on earth peace, good will toward men.
15 And it came to pass, as the angels were gone away from them into heaven, the shepherds said one to another, Let us now go even unto Bethlehem, and see this thing which is come to pass, which the Lord hath made known unto us.
16 And they came with haste, and found Mary, and Joseph, and the babe lying in a manger.
17 And when they had seen it, they made known abroad the saying which was told them concerning this child.
18 And all they that heard it wondered at those things which were told them by the shepherds.
19 But Mary kept all these things, and pondered them in her heart.
20 And the shepherds returned, glorifying and praising God for all the things that they had heard and seen, as it was told unto them.
About the Author
Mychal S. Massie is an ordained minister who spent 13 years in full-time Christian Ministry. Today he serves as founder and Chairman of the Racial Policy Center (RPC), a think tank he officially founded in September 2015. RPC advocates for a colorblind society. He was founder and president of the non-profit "In His Name Ministries." He is the former National Chairman of a conservative Capitol Hill think tank; and a former member of the think tank National Center for Public Policy Research. Read entire bio here