The Book That Grows Upon Us – Sunday Thought For The Day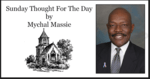 Charles Spurgeon is often referred to as "The Prince of Preachers" said:
"The best books…
The best books of men are soon exhausted–
they are cisterns, and not springing fountains.
You enjoy them very much at the first acquaintance,
and you think you could hear them a hundred times over-
but you could not- you soon find them wearisome.
Very speedily a man eats too much honey:
even children at length are cloyed with sweets.
All human books grow stale after a time-
but with the Word of God the desire to study it increases,
while the more you know of it the less you think you know.
The Book grows upon you: as you dive into its depths
you have a fuller perception of the infinity which remains
to be explored. You are still sighing to enjoy more of that
which it is your bliss to taste."
His observation is so very true.  I've found this to be the exact case in my life.  Specific to same, I would not hesitate to say, if we claim to be Christians and we have no desire to read and study the Word of God, it's very likely we haven't a relationship with Christ.
People may ask, how I can say that with confidence?  I can say it because being a true born again Christian is about having a personal relationship with our God and our Savior Jesus Christ.
It's a love relationship between our Father in heaven and we His children.  It's a relationship that should be growing stronger and more personal to us every day.
We must examine ourselves and see if God truly is the absolute most important in our lives.
How often do we tell others about our God and Savior?  How much of our time on a daily basis is spent thinking about scripture and communing with God?  Do we spend more time talking with friends about everything and anything, than we do talking and sharing about Jesus?
Our relationship with God cannot be faked.  People may think they can, but Spirit-filled believers very quickly realize a fake when they see it.
If we truly love the Lord, spending quiet time with Him and knowing Him better through the reading and study of His word are two things we do not neglect.
The Word of God not only grows upon us, it also grows in in our hearts.
READ:
Psalm 40:1-17 KJV
1 I waited patiently for the Lord; and he inclined unto me, and heard my cry.
2 He brought me up also out of an horrible pit, out of the miry clay, and set my feet upon a rock, and established my goings.
3 And he hath put a new song in my mouth, even praise unto our God: many shall see it, and fear, and shall trust in the Lord.
4 Blessed is that man that maketh the Lord his trust, and respecteth not the proud, nor such as turn aside to lies.
5 Many, O Lord my God, are thy wonderful works which thou hast done, and thy thoughts which are to us-ward: they cannot be reckoned up in order unto thee: if I would declare and speak of them, they are more than can be numbered.
6 Sacrifice and offering thou didst not desire; mine ears hast thou opened: burnt offering and sin offering hast thou not required.
7 Then said I, Lo, I come: in the volume of the book it is written of me,
8 I delight to do thy will, O my God: yea, thy law is within my heart.
9 I have preached righteousness in the great congregation: lo, I have not refrained my lips, O Lord, thou knowest.
10 I have not hid thy righteousness within my heart; I have declared thy faithfulness and thy salvation: I have not concealed thy lovingkindness and thy truth from the great congregation.
11 Withhold not thou thy tender mercies from me, O Lord: let thy lovingkindness and thy truth continually preserve me.
12 For innumerable evils have compassed me about: mine iniquities have taken hold upon me, so that I am not able to look up; they are more than the hairs of mine head: therefore my heart faileth me.
13 Be pleased, O Lord, to deliver me: O Lord, make haste to help me.
14 Let them be ashamed and confounded together that seek after my soul to destroy it; let them be driven backward and put to shame that wish me evil.
15 Let them be desolate for a reward of their shame that say unto me, Aha, aha.
16 Let all those that seek thee rejoice and be glad in thee: let such as love thy salvation say continually, The Lord be magnified.
17 But I am poor and needy; yet the Lord thinketh upon me: thou art my help and my deliverer; make no tarrying, O my God.
About the Author
Mychal S. Massie is an ordained minister who spent 13 years in full-time Christian Ministry. Today he serves as founder and Chairman of the Racial Policy Center (RPC), a think tank he officially founded in September 2015. RPC advocates for a colorblind society. He was founder and president of the non-profit "In His Name Ministries." He is the former National Chairman of a conservative Capitol Hill think tank; and a former member of the think tank National Center for Public Policy Research. Read entire bio here