'The Chosen' Lost – Sunday Thought For The Day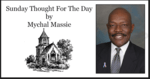 I am an old school fundamentalist, King James (version of the bible) reading, born-again child of God who knows America has turned away from God.  But, this past week I was reminded just how far from the truth of the Word of God the church has turned away.
This past week for those paying attention; we received reports out of North Korea about a two-year-old child who was sentenced to life imprisonment, because the child's parents were found in possession of a bible.  This past week, "religious" dialogue in America was about a supposedly Christian television show about Jesus, called "The Chosen."
Christians in North Korea don't have access to such false teaching as "The Chosen."  They have only Christ Jesus to cling to every day of their life in their country under the absolute threat of the harshest punishments, even death if they're found out.  Yet, in the face of such great threat the Korean Christian Church has one of the fastest growing, most biblically based, evangelical Christian and Catholic Churches in the world, despite the Christians and Catholics living in hiding and enduring massive levels of persecution.
The so-called Christian Church in America sees persecution through the prism of the blind leading the blind.  "The Chosen" is a television show that has 'capitalized,' i.e., monetized the grudging acknowledgment that wholesome programming sells.  In short, that means a ton of money can be made producing programs that are free of sex, violence, vulgar and salacious content.
But, if said programming identifies as Christian or being about the Jesus Christ of scripture, then unless it is one hundred percent true and accurate to the Word of God – it is a demonic deception and a lie intended to cause spiritual compromise.  It's also intended to lead the biblically illiterate away from the truth of scripture; which brings me to my point.
No true Christian program has a homosexual flag and unrepentant sinners involved; Judas Iscariot being the quintessential example of what happens when the devil is welcomed in Christian ministries – not that Christ wasn't aware, but that's not the point, as such, that I make here.
So-called Christian programming that's not written and produced by true born-again Christians is nothing more than a charade.  It's Satan presenting himself as an angel of light.
If you knowingly watch and subject your family to programs that violate the truth of scripture in any way, shape or form – you're guilty of leading your family astray.  You're anesthetizing them to the lies of Satan, just as Eve was to the lies of the serpent.
Some years ago a missionary from Asia came to America.  The person summed up their visit by saying they were appalled at how feckless and spiritually dead churches were in America.  The person said, the people in their country were under the misconception that, because of the "religious" freedoms American churches enjoyed, the church would be a tour de force for God.  What they found was a toothless old dog with bad eyesight.
This may sound harsh, but truth is often called harsh when it is spoken by those committed to it.  In America people show up to church with cell phones for bibles and sit in the sanctuary eating donuts, croissants and drinking coffee, while listening to a sermon that doesn't preach sin or the blood of Christ.  They attend church performances not Worship services.  The fear of the Lord is near non-existent in their church.
I am unapologetically opposed to the carnal make-believe church in America.  It is long past time for the church in America to remember to whom it is supposed to belong.  The Church in North Korea and Asia worship the Lord under threat of death.  The church in America mostly views church as a perfunctory behavior, that's not permitted to interfere with their lifestyles.  "Woe unto them! for they have gone in the way of Cain, and ran greedily after the error of Balaam for reward, and perished in the gainsaying of Core." (Jude 1:11 KJV)
READ:
2 Corinthians 11:3-15 KJV
3 But I fear, lest by any means, as the serpent beguiled Eve through his subtilty, so your minds should be corrupted from the simplicity that is in Christ.
4 For if he that cometh preacheth another Jesus, whom we have not preached, or if ye receive another spirit, which ye have not received, or another gospel, which ye have not accepted, ye might well bear with him.
5 For I suppose I was not a whit behind the very chiefest apostles.
6 But though I be rude in speech, yet not in knowledge; but we have been throughly made manifest among you in all things.
7 Have I committed an offence in abasing myself that ye might be exalted, because I have preached to you the gospel of God freely?
8 I robbed other churches, taking wages of them, to do you service.
9 And when I was present with you, and wanted, I was chargeable to no man: for that which was lacking to me the brethren which came from Macedonia supplied: and in all things I have kept myself from being burdensome unto you, and so will I keep myself.
10 As the truth of Christ is in me, no man shall stop me of this boasting in the regions of Achaia.
11 Wherefore? because I love you not? God knoweth.
12 But what I do, that I will do, that I may cut off occasion from them which desire occasion; that wherein they glory, they may be found even as we.
13 For such are false apostles, deceitful workers, transforming themselves into the apostles of Christ.
14 And no marvel; for Satan himself is transformed into an angel of light.
15 Therefore it is no great thing if his ministers also be transformed as the ministers of righteousness; whose end shall be according to their works.
About the Author
Mychal S. Massie is an ordained minister who spent 13 years in full-time Christian Ministry. Today he serves as founder and Chairman of the Racial Policy Center (RPC), a think tank he officially founded in September 2015. RPC advocates for a colorblind society. He was founder and president of the non-profit "In His Name Ministries." He is the former National Chairman of a conservative Capitol Hill think tank; and a former member of the think tank National Center for Public Policy Research. Read entire bio here